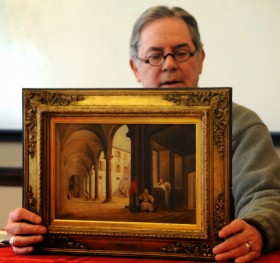 Schools out for the kids, but this week, eight teachers have been going to school at Crossroads, taking a class in geology offered through the University of Wisconsin-Green Bay Education Outreach program. On one of the class field trips, we stopped along the Sturgeon Bay Ship Canal. The 1.3 mile canal was dug between 1872 and 1980, and though it was an amazing accomplishment, it could have been much more arduous than it was.
Until recently (geologically speaking) Sturgeon Bay was could have been called Sturgeon Passage and Northern Door was truly an island. But sand filled in the bedrock valley, so by the time of European settlement, this was a peninsula. Digging the canal merely meant removing the sand. (I'm sure to the engineers and laborers "merely removing sand" seemed  like a monumental task rather than "merely removing sand."
"Why did Lake Michigan have all that sand?" the teachers wanted to know. I could have just said, "It's here because of the glaciers" but that doesn't really explain the this amazing grainy stuff.
Simplifying, which is always dangerous,  each grain of sand was once a part of a much larger rock. Big rocks are constantly being broken into smaller rocks. Wind, landslides, flowing and dipping water, growing tree roots can all break up rocks, but the Ice Age glaciers were probably the most impressive of all rock crushers. Though they moved with "glacial slowness", glaciers engulfed and actually obliterated whole mountain ranges as they moved across the northern part of the continent.
Those crushed rocks (which were pluck up and frozen into the ice to be transported to our region) were made up of quartz and other minerals. All sorts of things can happen to "those other minerals." Gases in the air, acids in rain and leached from plants, chemicals in in the water can corrode and dissolve or somehow transform the other minerals. But not the quartz. Quartz is extremely stable under the conditions found on Earth. So when less durable minerals are weathered away, tiny grains of quartz remain. Sand!
Sand is almost, but not quite, all quartz. But there are a few other materials that are hard enough to withstand weathering. Magnetite makes  a shiny black sand. If you run a strong magnet over sand, you can pull out some of these grains. But when we think of hard stones, we think of diamonds, rubies, emeralds. And yes, it's within the realm of possibility that when you pick up a handful of sand, you might possibly  be holding a tiny gem.
When I tell a group that, be it children or adults, someone always blurts out: "What's it worth?"  I tell them that something is worth what you can get someone to pay you for it. That pretty much dashes most dreams of potential wealth.
On Thursday from 4:00-7:00 the Door County Historical Society will sponsor  "What's It Worth?" in the lecture hall of the Collins Learning Center. Mark F. Moran conducts community events that involve appraisal of antiques, collectibles, and decorative arts in the upper Midwest and is extremely entertaining.
Join us in the Collins Learning Center at Crossroads to watch Mark F. Moran in action. Mark F. Moran conducts community events that involve appraisal of antiques, collectibles, and decorative arts in the upper Midwest and is extremely entertaining.

Formerly senior editor of Antiques and Collectibles Books for Krause Publications in Iola, Wisconsin, he has also been a contributing editor for Antique Trader magazine. He has served as editor of Antique Review East magazine; as producer of Atlantique City, an antique show held in Atlantic City, New Jersey; and as editorial director of F+W Media's Antiques Group and has written  more than 25 books on antiques and collectibles, including the 800-page annual Warman's Antiques & Collectibles. The cost of an appraisal is $15 and Mark will look at an item and estimate  "what it is worth"–what an item might bring if you tried to sell it. But Mr. Moran is quick to point out that the market price often has nothing to do with the value an object might have to its owner.
What is a sunset worth? What is the worth of open land? What is the worth of a squeal of  joy as a child runs down a sand dune that is made up of countless grains of quartz sand that are among the many  gifts of the glaciers?
Crossroads is a donor-supported preserve welcoming learners of all ages to programs in science, history and the environment.  The Collins Learning Center , located at 2041 Michigan in Sturgeon Bay, is open 1:30-3:30 daily and during scheduled programs.