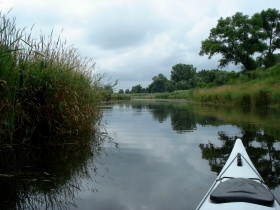 photo Mike Grota
We've been swamped and that's a good thing.
With year-end field trips for  schools, the Sustainability Fair, two construction projects, adding a fourth solar array, well testing,  beach monitoring/research, an archaeological survey and getting ready for the Crossroads Trail Run, we might say we've been really SWAMPED at Crossroads at Big Creek. But we won't say that we are "swamped" or "bogged down", or "mired in details"  because our friends from the Wiscosnin Wetland Association encourage us to use wetland terms in positive ways.  And we should. Wetlands are remarkably beneficial.
We at Crossroads love wetlands so much, that, with help from several foundation and generous donors,  we purchased a wetland–Big Creek Cove– last December. And in collaboration with  the Wisconsin Wetlands Association, Door County Land Trust, Door County Invasive Species Team, The Nature Conservancy, The Ridges Sanctuary, and Landscapes of Place we are hosting "My Healthy Wetland: A Workshop for Wetland Owners on Saturday, June 13.
According to the Wisconsin Wetlands Association publication, My Healthy Wetland, "History has not been kind to wetlands. Viewed as waste areas, they've been drained, filled, and treated as garbage dumps…Today, society credits the role of wetlands in creating a healthy environment, clean water, recreational opportunities, and landscape beauty. Agencies and organizations that once worked to drain wetlands now work to bring them back.
"Wisconsin's wetlands provide over $3 billion in benefits to communities every year in flood control, products, recreation, and tourism. "
Significant  to us here at Crossroads, wetlands help clean the water.  During  heavy downpours (are they occurring more and more often?) a wetland can soak up the excess runoff and  the lush vegetation can actually filter out debris, silt and toxins.  A big problem around the Great Lakes Region is the increasingly high nutrient content of lakes, as fertilizers get washed off fields and lawns into our bays and lakes. If water passes through a wetland, the plants absorb the fertilizers, so that the water that eventually reaches a lake will be cleaner.
We like clean water in the lakes and we also like clean water in our wells. Again this weekend, Crossroads is hosting the Community Wide Well Monitoring Program, Friday from 4:00-7:00 and Saturday from 9:00-12:00  At those time at Crossroads (and at the same times at the Liberty Grove Town Hall and Clay Banks Town Hall) Door County homeowners will be able to discuss well water issues and pick up sampling kits for testing. Thanks to a grant from Healthy Water Door County, a fund of the Door County Community Foundation, the well tests will be analyzed at Crossroads free of charge (although donations will be accepted).
The Door County Historical Society will open their The Heritage Village at Big Creek on Sunday, June 14. The buildings will be open and Write-On Door County will present a workshop on journaling in the Vignes School.  The topic "Men in My Life" might just become a lovely Father's Day tribute for some participants.
With school out for the summer, Crossroads is beginning its Family Programs Mondays through Thursday at 10:00 beginning June 15.. Learners of all ages are welcome at these free programs at the Collins Learning Center, which this year will focus on habitats.
SpectrumFest will be celebrated on Wednesday, June 17 at 1:30.  Stations targeted at both young children and grade school-aged learners will help young people learn about the many aspects of the electromagnetic spectrum. Free and fun for all ages.