Trails: All trails were dragged and leveled Thursday.  A new track was set as well.  We have a good 6" base throughout.  Skate lanes are smooth and fast.  Conditions are excellent.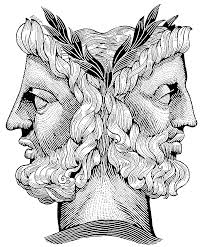 When very young children head out across the Crossroads parking lot, we always remind them to "Look Both Ways."  The beginning of January also is a time for looking both ways.  The month was named of the Roman god, Janus. This pagan deity is depicted as having two bearded faces, one looking forward and one looking back.
It's an interesting concept–the idea of looking forward and back at the same time.   Many birds and insects-the ones with eyes of the sides of their heads- are capable of looking in two directions at once. An aquatic insect, the whirligig beetle, has divided eyes enabling it to look down into the water and up into the sky at the same time.
But forwards and backwards?  Owls come close. They can twist their necks so quickly that they can see almost 360 degrees almost (but not quite) instantly. But a few birds, because of strange positioning of the eyes, literally can look both ways.
American Woodcocks are examples of these backward and forward-looking birds.  Their eyes are almost on top of their hears. They can look forward just as we humans can see what is front of us. But they also can look backwards using both eyes. Then, each eye has a monocular 180 degree view to the side, and when the bird has its head down, it also has a full view of the sky. What a vision field.
As  we start the New Year, being all-seeing would be so helpful., but it would take some of the fun out of anticipation.  Still,  as I sit down with the 2013  financial reports and 2014  budget draft, I wish I could see both ways at the same time. And it wouldn't hurt to be able to see under things too. The Crossroads Educational Theme for 2014 is "Below the Surface" and during the coming year we will focus on water quality, archaeology, geology, and soils.
We wish we could see below the surface of the siding on the south side of the learning center. It appears that our south-facing exterior walls have succumbed to sun and rain, and this is year will need to schedule some repairs and preventative maintenance.  We are poised to begin the re-purposing of our lower level, turning a former garage into a learning space. As soon as our plans are finalized, we will need to let bids to see just how much money we will need to raise. Equipment replacement and on-going maintenance. Budgeting (and fund raising)  can be an adventure.
So is archaeology. Being able to see below the surface would be useful as we proceed with our archaeological survey…..talk about looking into the past! For that, we will have to dig.  That will be an adventure too, if we actually find evidence of habituation of the earliest residents of the Door Peninsula.
And speaking of the Door Peninsula, our history is tied to our geology.  This week's science program will be a video of the "History of the Earth" on Thursday, at 2:00. On Monday, January 6 at 2:00, the history lecture will be "The Escarpment: How Geology Determined the History of Door County."
As a holiday special (meaning  schools are in session yet) we will offer Family Ski Loans on Thursday, Friday, Saturday and Sunday. For the rest of the Snow Season, Family Skis will be offered each Sunday the conditions are favorable. Recreation equipment is available from 1:00-3:00. and must be returned by dark.  Sponsored by Friends of Crossroads, equipment loans are our gift to the community.  Exercisers of all ages are invited to borrow skis or snowshoes (while supplies last) free of charge. This is our way of encouraging the community to get in touch with nature in the winter.