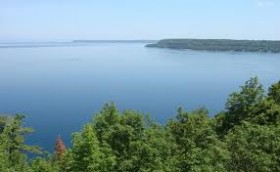 Some years ago, we at Crossroads first heard the term "science-based  or evidence-based medicine" during a continuing education program for health care professionals.   I was rather relieved to know that if I get sick, that the people who will be taking care of me will  base their decisions on valid research rather than on  myth and/or  tradition. But sitting in the back of the lecture hall, I couldn't help but wonder how many environmental decisions were based on gut feelings and how many land management activities were carried out "because that's how we've always done it."
Occassionally, at our environmental forums, folks make impassioned statements, emotional accusations and point fingers. Certainly our speakers have a right to their  convictions, but we really should expect  data-based opinions at  our  science education facility. So when the League of Women's Voters requested we host a program on water quality, I was rather relieved. For while  this group is dedicated to "Defending the Environment,"  they pride themselves on lack of bias.  When I learned the speaker would be Dr. Peter Sigmann, I was even more relieved. Sigmann is a physician,  board certified in Internal Medicine  and experienced in science-based medicine. He knows the value of data.
To gather his data, Dr. Sigmann has been collecting and testing water from Little Sturgeon Bay on a regular schedule since 2001 and for the last two years, he has tested a number of  domestic wells also.  Members of Door Property Owners have volunteered their time,  collecting and logging the data which Sigmann will present during the League program. Two members of the Kewaunee Cares organization also  will present  information gleaned from their stream and well measurements.
The Report of Current Water Data from Door and Kewaunee Counties will be presented by the Door County League of Women Votes  on Thursday, September 19, at 6:00 in the Lecture Hall of the Collins Learning Center. It is free and open to the public.
For the past seven summers, Crossroads has hosted researchers from the University of Wisconsin-Oshkosh. These microbiologists  have used our laboratory each summer to test water samples from 32 area beaches. They have been able to coorelate spikes in microbes with weather events and to determine some of the sources of pollution. Their extensive data is now being used in planning for an array of Great Lakes water quality efforts. Here in Door County,  this meticulously collected and analyzed data  has been invaluable in the design of beach restroration and remediation projects.