Trail Report:  Crossroads received 5″ of new snow Friday.  All the trails were rolled Friday afternoon and are in good skiing condition.  Because the snow was so light it packed well but there wasn't enough to make a track.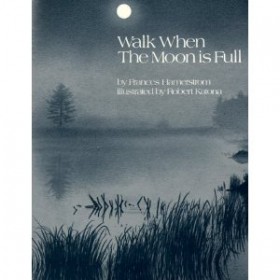 A stunning James Ingwersen portrait of Fran Hamerstrom hangs in the entryway of the Collins Learning Center at Crossroads. We celebrate this scientist  because of her pioneering work in wildlife management, but the truth is, many of us at Crossroads came to know her as the author of a charming children's book called "Walk When the Moon Is Full." I have no idea how many times I've read segments of this book to groups of children.
The book tells of the outdoor adventures of  Hamerstrom's own two children.  In the chapter "How It Began,"  she wrote: "At last [Alan] turned to his mother and sighed, "Do we have to go to bed early every single night until we are old?
"Fran set her mending aside and looked out the window. The moon was rising like a giant apricot, casting long shadows of gnarled oaks on the snow. Their mother was perfectly still for a long time. At last she repeated Alan's words softly  "…..every single night until we are old?"
"Then she said, "No," in a faraway tone. Both children looked up at the sound of their mother's voice. "Why should children go to bed early every single night until they are old? I say, 'No! '"
And so she and her husband promised the children that for a year,  they would walk as a family every time the moon was full.
Like Fran Hamerstrom, the members of  Friends of Crossroads think that once in a while….like maybe once every 28 days when the moon is full, children should stay up and have adventures in the outdoors.
So Sunday, January 27  the Friends of Crossroads invites outdoor explorers or all ages to for a walk, ski, or snowshoe along the trails under January's (almost) full moon and then, conditions permitting, to gather around the fire at our new  Council Ring to roast marshmallows, drink hot chocolate and listen to readings from Fran Hammerstrom's acclaimed book. The event will start at the Collins Learning Center at 6:00. The event is free and open to the public.
If snow depth is sufficient, Friends also will sponsor the Sunday afternoon Family Ski. Snowshoes and ski equipment are loaned out between 1:30-3:30. We expect the equipment to be used at Crossroads and returned before dark.
The Door County Master Gardeners Association invites the community to the  program A History of Gardens and Landscape  on Tuesday, January 29,  7:00 PM   This presentation explores  gardens and landscapes through the ages beginning with the Garden of Eden, through  the centuries and concludes with  21st century's latest trends.  Guest speaker  Kathleen Blankenburg is the owner of The Gardening Angel, a garden design firm located in Door County specializing in small space/raised bed and accessible gardens for individuals with physical disabilities.