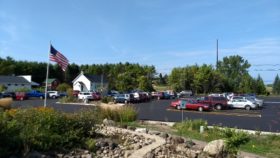 You are invited to join the Crossroads Board of Directors in a Ribbon Cutting Ceremony to dedicate our Bird and Butterfly Garden and  Parking Lot Expansion on Saturday, September 23 at 1:00 p.m  as a part of the Door County Sustainability Fair 2017 .  Neither effort is fully complete, but because both projects were designed to be sustainable, this seems like the most appropriate time to dedicate and showcase them.
So what is  "sustainability?" That is a loaded question with countless philosophical and ethical ramifications, but I like the definition which was accepted by the General Assembly of the United Nations in 1987: Sustainability is "development that meets the needs of the present without compromising the ability of future generations to meet their own needs."
Another definition for environmental sustainability is "capable of being maintained at a steady level without exhausting natural resources or causing severe ecological damage."  That indeed was a major concern in our project designs. Our projects  will help protect our water, reduce our energy consumption, and in a small way, increase biodiversity. We will not save the world, but we are worked toward doing our part.
The mission of Sustain Door, Inc. is " to promote the social, economic, and environmental sustainability of Door County" and to that end, they will sponsor their eighth Door County Sustainability Fair at Crossroads this weekend. . Members of Door County Thrive have joined them this year to make the fair happen.
From 10:00 am to 4:00pm, the community is invited to enjoy exhibits, demonstrations, children's activities, local food, films and music in the Collins Learning Center, in our gardens and around the newly upgraded parking lot.
Vendors will be selling local, sustainable products, NWTC will offer a special renewable energy demonstration, and a number of non-profit environmental  groups will help promote sustainable living.
Special thanks to fair sponors  Door County Yoga, Green & Grains, The Healthy Way, Lake Michigan Wind and Young Automotive.
The 1:00 Crossroads Ribbon Cutting will be a brief outdoor ceremony in the garden just east of the Collins Learning Center.  
In case of rain, activities will be moved into the learning center, but the fair will go on.