Trails:  All trails were dragged and leveled on Thursday morning.  A track was set.  Plenty of snow with only a few icy areas. Therefore, skiing is very good.  Trails will be fast in the early morning.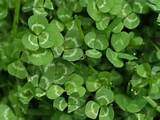 We're told that we are all Irish on St. Patrick's Day weekend,  so like the rest of County Door, we at Crossroads will celebrate this improbable holiday with two nature hikes which we will call "In Search of Green". But even if we have the luck of the Irish, we don't expect to find shamrocks, whatever they are.
          Many historical botanists think the original shamrocks were Oxalis (Wood-sorrel), which is the plant they sell as shamrocks in grocery stores and florist shops this time of year. Others think the word   "shamrock"  is a corruption of an ancient word meaning "little clover or white clover". White Cover is an alien plant which may well have come from Ireland (or somewhere in the British Isles) that now has spread throughout North America. That's right. Even though we all grew up with it, clover is not a native species.
          The religious scholars can find no connection between shamrocks and St. Patrick, the British missionary who supposedly lived between 389-461 CE. But it seems that long before St. Patrick preached on the Emerald Isle, shamrocks were a sacred pagan symbol for rebirth and eternal life. And that pre-Christian veneration of shamrocks may be the appeal now. St. Patrick's Day is, for some, an excuse to party in March, but the wearing green may well be a manifestation of a near-universal longing for spring. When will the snow melt? And when will we finally…FINALLY see green?
          While this winter is seems endless, it is just a blink of an eye compared to the Ice Age. Imagine the Door Peninsula covered by glaciers for tens of thousands of years. For help in imagining, I go to the words of nature writer Virginia Eiffert in her book Journey in Green Places.
          "To look across this placid, sunny landscape of America, which once lay two miles deep under ice, to see the woods, the prairie, the marsh, the bog, the shore, and to know that every single plant in all this serene country came here originally from somewhere else is to begin to realize the enormousness of what nature was confronted with when the Ice Age ended, when the great springtime began, when thousands of square miles of wet country waited to be replanted."
          "Where did they all come from, exactly, the plants which quickly seemed to repopulate the devastated area once occupied by great ice? The uncovered ground around the Great Lakes is believed to have obtained plants from at least three different centers of life–from the Rio Grande valley and arid southwest, from the southeastern forests, and from the Atlantic coastal plains."
          On Thursday, March 14 at 2:00, Wild Ones of Door County, a group dedicated to promoting native plants, will offer a program on invasive species.  But in a very real way, all of our plants, all of our animals, and all of our people (including Native Americans) have invaded the Door Peninsula in the past twelve to ten thousand years.
          For all the people who even after St. Patrick's Day still  are longing for greens,  Master Gardeners will offer a public program called: "How to Start A Veggie Garden. " on Tuesday, March 19 at 7:00. Tom Luebker will present a lecture designed to help anyone interested in growing healthy home-grown vegetables. (They aren't native either. Our vegetables originated in Europe, Central and South America, Asia or Africa.)
          Vegetables grown at home or in a community garden generally taste better, are more nutritious, cost less and offer individuals the opportunity to carefully manage how the food is grown. Tom possesses the most up-to-date information about current vegetable gardening practices and brings a common sense approach to growing healthy food at home, so his program should appeal to anyone interested maintaining large or small veggie gardens this summer.