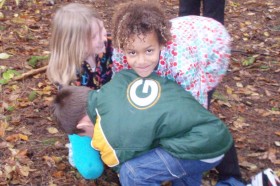 Around Halloween, children seem to like getting scared. The second grade class from Sawyer School was taking a field trip—the culmination of their science unit on soil—and they were fascinated and a bit "creeped out" by mushrooms, some of which were rather nasty looking. There's just somethng unsettling about death and decay.
The children were  puzzled by a row of ghostly and grotesque mushrooms growing in a perfectly straight line. After soliciting some rather outlandish explanations, I suggested that the children look up…up at the perfectly straight trunks of spruce trees. And as the chins went up, I could see understanding coming over the group.
Lines of mushrooms usually indicate the presence of a paritially decayed log. Actually, a whole succession of decomposers work on a log to break down the wood into its component chemicals. Some fungi break down cellulose; others cause the wood to soften so insects and worms can break it down. At each stage of decay, different decomposer digest and decompose a log until it disappears.
Mushrooms may look spooky, but they are anything but evil. Mushrooms indicate that nature is recycling-getting rid of forest litter while returning the chemicals of wood back to the soil. In looking at mushrooms, the second grade students indeed were studying soil. And marveling at nature.
Our history lecture is related to a differnt aspect of  Halloween.  Local legends and family stories about Halloween often mention outhouses and certain pranks of yesteryear. Whether or not all of these stories are true, we will celebrate the history of privies with the lecture: "When Nature Called–The Story of Outhouses" on Thursday, November 1, at 2:00 in the lecture hall.
Sunday, November 4 at 4:00 , join the naturalist for a "Green and Gold" hike. Whatever the outcome of the Packer game, nature will be displaying Packer colors. The hike will start at the Collins Learning Cetner
Tuesday, November 6,  the monthly meeting of the Door Peninsula Astronomical Society will be held at the Stonecipher Astronomy Center. The program "Globular Clusters" will be presented by Dr. John Beck and the Monthly Topic "The James Webb Telescopes will be offered by Dave Udell. Refreshments will be served. Meetings are held in the Stonecipher Astronomy Center. Please use the Utah Street Entrance to reach the Astronomy Campus.