TRAILS:  Groomed and tracked Friday.  Very good conditions.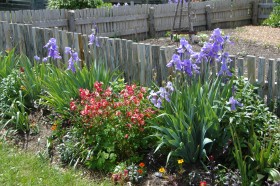 The Heritage Garden at Crossroads at Big Creek is dormant under a blanket of snow, but packages of seeds are arriving and already, we are recruiting volunteers to help in the garden next summer. One woman, apparently interested, asked if there were spiders in the garden. I sensed this could be a deal breaker, but I had to tell the truth. Yes, the Heritage Garden is full of spiders. Thank goodness.
Many people are genuinely frightened by spiders, and while I find them fascinating, I have to admit they look  kind of creepy–with their eight legs, eight eyes and their piercing fangs.
Urban myths and folk stories about spiders abound and people's  fears are genuine. Perhaps we have all been brainwashed at a very early age by tales of Little Miss Muffit. Or maybe we fear them because our mothers diagnosed every little red bump on our skin as a spider bite.
" It is common for any unexplained skin irritation to be called a "spider bite." according to an article  by Phil Pellitteri, Donald Lewis and Jeffrey Hahn, published by the University of Iowa Extension.   "Research has shown that over 80% of suspected "spider bites" are caused by other arthropods, such as insects and ticks, or other disease states.
"Of the more than 3,000 kinds of spiders in the United States, about 60 species have been implicated as causing medically significant bites to people. Many spiders are not capable of breaking the skin with their fangs while other species contain venom that causes no reaction. Spiders are usually very timid and will only bite in self-defense if mishandled, cornered, or injured."
The Door County Master Gardeners want to help Door County residents overcome their  fear of spiders- especially those often found in gardens across the peninsula, and replace that fear with profound respect and admiration for the little critters.   To that end, the public is invited to a free program Tuesday, March 5  at 7:00 called  "Your Eight-legged Colleagues: Spiders in Your Garden"  in the Collins Learning Center.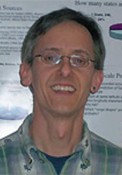 UW-Green Bay Biology professor and spider expert Dr. Mike Draney will be talking about how spiders can be very beneficial inhabitants of your garden.   He will talk about the ecology of spiders, ways in which spiders are beneficial to gardens and gardeners, how to encourage beneficial spiders in gardens, and how to recognize some of the common spiders in our area that might make a home in your garden.  Knowledge is power, so overcoming the desire to squish every spider in sight makes you a better gardener and your garden a more productive and beautiful environment. It is time to become an arachnid admirer.
While Master Gardeners are learning about spiders in the Collins Learning Center, the Door Peninsula Astronomical Society will be meeting at the Stonecipher Astronomy Center.  The will be screening the remarkable documentary:  Cosmos, Episode 1 The Shores of the Cosmic Ocean:  "At the beginning of this cosmic journey across space and time, Dr. Carl Sagan takes us to the edge of the universe aboard a spaceship of the imagination. Through beautiful special effects, we witness quasars, exploding galaxies, star clusters, supernovas and pulsars. Returning to our solar system, we enter a re-creation of the Alexandrian Library, the seat of learning on Earth 2,000 years ago. " Following the film, Dave Udell will offer an update on the concepts presented and Tom Minahan will present the Monthly Viewing Target of the Month. This program is free and open to the public.
For as long as snow conditions are adequate, the Friends of Crossroads will continue the Sunday Community Ski Program  held ever Sunday afternoon. As a way of getting people in touch with nature and encouraging  environmentally-gentle exercise, Friends of Crossroads loan skis (and snowshoes) free of charge between 1:30 and 3:30. We ask that equipment be returned before dark.