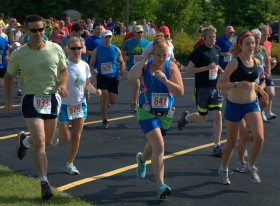 The trails at Crossroads are exceptionally green this time of year, but that is not why our trail run,  Running Green for Crossroads, has "green"  in its name. For years, Crossroads had been hosting programs about "green living", and the same people always came: the people who already were committed to sustainability.
"Running Green" will start at 8:00 Saturday, June 21. The event came into being as a way  to introduce  learners of all ages to some of the simple practices of  "green living", while making some "green" to help support Crossroads. It has, in five years,  become a  tradition for many Door County residents and visitors.
To start with, running and walking are among the most environmentally friendly recreational  activities. Ministry Door County is our major sponsor  because "green exercise" is one of the best practices to promote both physical and mental health. (By the way, during the run, medical services will be provided by Ministry. Athletic trainers and EMRs will be available at the start/finish line and at key points throughout the course.)
Running Green truly does teach by example.  Post-event refreshments are locally grown or produced within 30 miles (eat local!), paper goods are recycled while food waste and even the race bibs are compostable (prevent useful materials ending up in landfills!),  the 2K, 5K, and 10K courses are marked with reusable flags (re-use!), and  prizes are made by local artists and business (buy local!)
Education and goodies don't end with the environmentally friendly  finisher's tee-shirts  and cherry sundaes. Each participant receives a potted evergreen trees (plant trees!), donated by one of our supporting sponsors, Evergreen Nursery.
Another of our supporting sponsors, Sturgeon Bay Utilities, will provide each participant with a sturdy market bag (re-use!) containing a booklet on energy saving tips,  a mercury-free mini-sized, soft white compact fluorescent light bulb (cut energy use!) and a solar-powered LED nightlight (cut energy use and prevent accidents!), and green flashers for walkers or bicycle riders (safely reduce the use of fossil fuel!)
This year, Crossroads is teaming up with Nike to 'Reuse-a-Shoe' which takes worn out athletic shoes and grinds them down to create a new material called Nike Grind, which is used to make high-quality sports surfaces including courts, turf fields, tracks and more. Participants and spectators are encouraged to bring their old worn-out shoes to the event. (re-cycle!)
A Native American proverb is printed on the SBU market bag: "Treat the earth well. It was not given to you by your parents, it was loaned to you by your children."  We are hoping that Running Green helps share that green message with all.