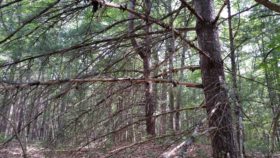 A plantation of white pine trees grows  at the northeast corner of Crossroads at Big Creek. The trees were planted close together…so close that the upper branches create  deep shade. The plantation is so shady that the bottom branches of the trees simply died. I explained this to a group of children and they seemed to be getting the concept of "self pruning" when one child asked, "If there is so little sunlight that the bottom branches die, how come that  little pine tree is doing OK?"
There indeed was a little tree and it apparently was thriving in very low light. While I can't be sure without a lot of digging, I suspect the the roots of the small tree had become graphed to a larger tree or trees.  In an established plantation, it is  likely that the roots of all of the trees have grown together forming a large interconnecting root system. During strong winds, the trees hold each other up, but more importantly, food and water can flow freely between the trees. A stand of pines–natural or planted– functions as a single unit.
And that healthy small tree? It was benefitting from the energy of the sun which had been captured by the needles of the taller trees.
The more I learn about forest ecology the more amazed I become. The interrelationships between plants and animals are more tangled than the grafted roots of pine trees. And in this case, a healthy young trees  are nurtured by a more mature individual.
Door County lost an extraordinary individual recently. Roy Lukes was the elder statesman of Door County naturalists. We all were nurtured by his knowledge and wisdom. As long as we share what we learned from him with our young people, Roy is, in a very real way, still with us, contributing to the well being of the peninsula he loved.
During the July and August, Crossroads  tries to nurture learners of all ages by offering  free family programs at 10:00,   Mondays through  Thursdays. Our summer educator, Joan Wilkie, and naturalist Joel Kaminski will share the teaching responsibilities. These one hour programs , held rain or shine, are free and open to the public. Pre-registration  is not required, but if  a large group will be attending, we appreciate advanced notice (920-746-5895.)so we can prepare adequate supplies and teaching materials. Summer programs are made possible with a grant from the MMG Foundation.