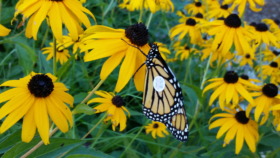 Sunday, September  10  is Grandparents Day, and at Crossroads at Big Creek, we will celebrate the day with our Annual Monarch Tagging Event. This is a wonderful learning adventure for multi-generational  families (though interested individuals of all ages are welcome.)
When I remember my grandparents. I think of their trips. They were world travelers—Africa, Europe, China, Latin America. I recall watching jerky home movies of their winter retreat in the mountains of  Mexico.  
But they have been gone for a long time.  I can't ask them exactly where they stayed. Now, with the help of maps and my Navigator app,  I could probably find the country of Mexico, but could I find a specific small evergreen forest in the mountains where Grandma and Grandpa spent a winter? No way. 
And this  is what makes monarch butterflies so remarkable. Without maps or instructions, they can locate the exact location the Central Mexican Oyamel  fir forests in the Michoancan hills where their insect grandparents, or great-grandparents spent the winter.
Understand that monarch migration is not  a round-trip.
The monarchs that overwinter in Mexico start flying north in early spring. They make it to Texas or the Gulf states, lay their eggs and die. 
Their offspring usually  arrive in Door County around the first of June. The monarchs we have enjoyed this summer did not live very long…somewhere between two and six weeks. These butterflies never left Door County. But they did  mate and lay eggs.
Those eggs hatched, grew as caterpillars, and went through metamorphosis. 
The adult butterflies that emerge in late summer (the grandchildren or great-grandchildren generation) lack any desire to mate. Instead, they are instinctively compelled to sip nectar from as many flowers as possible. They must build up fat reserves in order have enough energy to fly from here to Mexico, to live through winter, and then to mate and begin the journey north next spring.
Scientists still do not know how these insects find the exact forests their great-grandparents and countless generations before them overwintered, but recent research has revealed some of the basic navigation techniques employed by these orange and black butterflies.
Apparently, monarchs have an internal clock/compass. According the Dr. Eli Schlizeman, of the University of Washington, "Monarchs use their large, complex eyes to monitor the sun's position in the sky, but the sun's position is not enough to determine direction.
 "Each butterfly must also combine that information with the time of day to know where to go.
 "An internal clock maintains a daily pattern of physiology and behavior and in the monarch.  The clock is centered in the antennae."
 So this time of year, monarchs, using their eyes and antennae, head southwest toward Mexico, and we hope many of them are refueling on the abundant flowers of Crossroads on Sunday, September 10 at 2:00.
 Guest Naturalist Karen Newbern will present  a lively program for learners of all ages in the lecture hall of the Collins Learning Center. After an indoor introduction on the Monarch life cycle, she will distribute nets for butterfly collecting for the tag/release activity.  
We've been a bit early the last few years,  but we hope to be tagging butterflies that hatched and developed in Door County and also monarchs migrating  from points north. 
The butterflies we tag at Crossroads, incredibly, will fly to Mexico for the winter and there is a remote chance that researchers will recover one of "our" tagged monarchs and notify us. It has happened only once….so far. [This winter though, our friend Judy Gauger who lives between Fish Creek and Baileys Harbor,  received word that one of her tagged monarchs was recovered.] The program is free and open to the public.
Our Friday Film this week will be a documentary on monarch butterflies. Offered at 2:00 on Friday, it is free and open to the public.
During our Parking Lot expansion, spaces will be available much of the time, but when heavy equipment is present, we ask that visitors park at the Maintenance Building (first drive east of the main entrance) or at the Astronomy Campus parking lot (intersection of Cove Road and Utah Street).
Crossroads at Big Creek is made up of three properties:  Ida Bay, The Cove, and the Big Creek Preserves. The Collins Learning Center, located at 2041 Michigan Street , is  open daily 2:00-4:30 and during scheduled programs. Restrooms and trails are always open.