TRAIL C"ONDITION:  Fresh dusting.  Trails groomed Monday. Still not enough snow for tracking.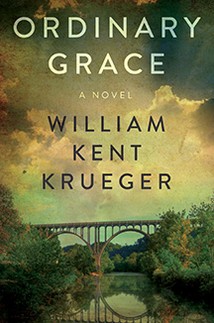 When beech bark disease was first found in Door County, Crossroads at Big Creek did not have any beech trees  Now we do.  Consequently last week, as Carolyn Rock described the beech bark disease at Whitefish Dunes State Park during a Master Gardeners lecture, I kept picturing the stunning beech trees in Crossroads' Ida Bay preserve.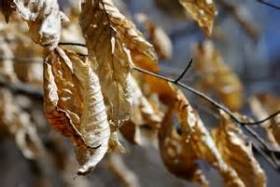 Beech trees, especially young ones, are easy to locate in winter. As the hiking classes from The Clearing pointed out during their visit to the Ida Bay Forest, beech trees are examples of "marcessece."  Young beech  trees  (along with oaks and witch hazels which also grow at Ida Bay) hang on to their leaves all the way into spring. And the leaves, though sort of a fawn color now (and will eventually be bleached to a silver-white), are pliable and springy even when fall is just a colorful memory.
Early settlers sometimes used beech leaves to stuff mattresses because the leaves did not get matted like straw. Pioneers also liked beech to make bowls, wooden spoons, boxes and barrels because beech wood is tasteless and odorless.  
Beech trees in Europe have been used since ancient times. The word "book"
comes from the Anglo Saxon "boc" meaning a letter or a character which, in turn, comes from the ancient word for beech. Books, as we know them, had their roots in beech trees.
Admittedly, European Beech  is not quite the same as our native species, but it's darn close. So this month,  while beech wood burns  in the fireplace, it just seems appropriate to curl up with a good book, which is more or less the idea of Door County Reads.-One County-One  Book. The idea is that this month, everybody in Door County read Ordinary Grace, which is an extraordinary book on many levels.
We at Crossroads are thrilled that the
Door County Reads Keynote-Meet the Author: An Evening with William Kent Krueger
  will be held at the Collins Learning Center on  7:00 on February 5 
From the  writer's biography on his website: "Raised in the Cascade Mountains of Oregon, William Kent Krueger briefly attended Stanford University—before being kicked out for radical activities. After that, he logged timber, worked construction, tried his hand at freelance journalism, and eventually ended up researching child development at the University of Minnesota. He currently makes his living as a full-time author. He's been married for over 40 years to a marvelous woman who is an attorney. He makes his home in St. Paul, a city he dearly loves."  
The event is free and open to the public. A reception will follow the presentation.