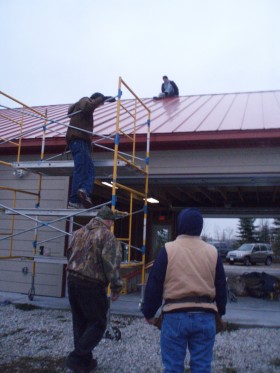 "Are you from Door County?" we ask strangers who visit Crossroads at Big Creek. Often, the answer is "We have a summer place here."
         One couple said that they had a cottage near Lake Michigan. They spend most of every summer at the lake, but in the winter they stay home. They stay home and worry about their cottage. What if vagrants move in and trash the place when they are away?
         It hasn't  happened to these folks (so far)  but every winter, it happens to red-tail hawks… and to crows and to herons and even squirrels. Owls nest in winter.
         Though we talk about owls around Halloween, we are most likely to hear owls hooting between Christmas and Valentine's Day because that is when they start to form pairs and get ready to nest. But they rarely do any nest building.
         Owls  use those big yellow eyes to  find a large deserted nest of a hawk. If they don't find a hawk nest, they will settle for a squirrel nest. As a last resort, they nest on a witch's broom, which tuft of thick branches that grows on a tree which has been infected by fungus, insects, or mistletoe. But a pre-built hawk nest is best.
           When I was in school, I was taught that this was a pretty neat arrangement. The owls have their owlets in late winter, so the young have fledged before the hawks come back in the spring.  Then, the hawks can nest. But it doesn't quite work out that way.
          In the first place, owls are bullies. They are aggressive and quite frankly, they don't tolerate hawks anywhere near their young. If the hawks come back, owls scream, dive at them and harass them until they leave the owl territory.
          The other reason hawks tend not to re-use their nests is that owls are incredibly messy. By the end of the breeding season, the hawk nest is trashed and it is easier for the hawks to build a new nest than to try to fix and clean up jumble and garbage left by a family of owls.
           A hawk pair  builds a bulky nest of sticks and lines  it with bark or pine needles.  Then they do something odd.  They add greens. In A Guide to Bird Behavior III,  Donald and Lillian Stokes wrote: "…the female frequently collects green sprigs from conifers or other trees and drop them on the nest….No effort seems to be made to place the sprigs into the nest structure. Rather they are usually just placed on top. This suggests that they have functions other than providing additional support for the nest. Theories about the purpose of the sprigs range from providing added moisture or controlling parasites to actually serving as food."
         Certainly, it was in no way as messy as an owl nest, but the basement room in the Collins Learning Center had become a bit of a jumble. We housed our ski and showshoe equipment there, and our vehicles, and power tools and paints and garden tools…you get the idea.
         It took us almost seven years to raise the funds and several months to build, but this week, somewhat like hawks,  we will desert our original garage and move our equipment into a new maintenance building, which is located just off Michigan Street east of the main entrance to the preserve.
         And similar to the way  hawks add green sprigs to their  nests, Crossroads made an effort to add "green" features to the building….in our case, to teach by example (and in the long run, to save money.)  Instead of putting up a "bare-bones" traditional storage building, we made every reasonable effort to create an energy efficient building….adding insulation, energy efficient lighting including a ridge cap skylight.  The building will be powered by rooftop solar collectors, which are being installed by students from the NWTC Solar Technology Program under the guidance of John Hippensteel of Lake Michigan Wind and Sun.
        The sun is fascinating, so this week, the Family program: "Our Magnetic Sun" will be offered on Saturday, November 17 at 2:00. The program begins with the showing of the video " 3-D Sun" followed by hands-on activities relating to the sun and its energy. This program is open to learners of all ages.
       The Green and Gold Nature Hike is quickly becoming a Packer Sunday tradition. This free one hour exercise opportunity will start at 4:00 on Sunday afternoon and will last about an hour. Participants will explore the ways trees prepare for the winter.
            The history program this also a video (we are rather excited about our upgraded multi-media system).On Tuesday, November 20, at 2:00, we will screen "Keepers of the Door", which "documents the amazing story of the lighthouse of Door County and the keepers who dutifully served to keep the lights burning." The one hour program is free and open to the public.