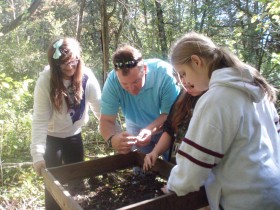 This is an odd week at Crossroads and throughout the Door Peninsula. Suddenly, the summer people… most of them anyway… are gone. We know they were here, but there really isn't much evidence of them now that Fall Festival is over. We now know for certain that sometime in the past, Native Americans lived  at Crossroads. At this point, we are thinking that they may well have been summer people.
          For the last few weeks, a professionals  from Midwest Archaeology Consultants, assisted on several days by enthusiastic middle school students, have  been looking for evidence of early "summer people" by  conducting a shovel survey along Big Creek. And they have found  artifacts, .though nothing (yet) to indicate a long term settlement.
           According the principal investigator, Randy Dickson, "Archaeologists call a site such as the one we found by the creek a short term occupation, or a 'field camp'. When the fish filled Big Creek during spawning, the Indians exploited that resource."
          Yeah, like I said. The first people at Crossroads….at least some of them….were summer people. Historical Indians came to Door County to go fishing just like modern summer people…at least some of them. And actually, it makes sense that the archaeologists and kids did not find a lot of evidence from a seasonal fishing camp. As any local knows, catching pike and suckers in a small stream would not require extensive equipment.
            Our first seasonal residents could just have reached into the water and pulled out fish by hand, clubbed or speared suckers with sticks, or perhaps netted the fish in narrow parts of the creek. Then the fish would have been preserved on drying racks. Clubs, spears and drying racks would have been made of wood while nets were woven from plant fibers….all organic materials which would have decomposed years ago.
          The artifacts we have found have been made of stone, predominantly chert. So far, we have not found pottery or fire-cracked rock, but according to Dickson, "Pottery came into Wisconsin 2000-2500 years ago, so we could have an older site before pottery, the pottery could have dissolved or other possibilities exist. However, the artifact density is great enough to justify digging  a two by two foot test plot next spring.  We need to find more piece of the puzzle to accurately and confidently reconstruct past lifeways.
          Those pieces of the puzzle…the artifacts which have been found buried in the dirt are, well, dirty. They need to be cleaned and we are inviting interested learners of all ages to join in this effort on Saturday, October 26 at 10:00. If you can handle a soft toothbrush, you are qualified. Participating in this research is a great way to explore Door County history. We will work in the lower level of the Collins Learning Center. No pre-registration required.
          Big Creek would have been an inviting place for a seasonal Indian field camp and in the mid-1800s,  the Hans Johnson family because the springs (or more accurately, seeps) which feed Big Creek run all year. One such spring is especially beautiful.   Collin Mirkes has selected this site for his Eagle Scout project. This week, he and the members and families of Troop 1022 will prepare the site to build an observation deck. We anticipate using this observation platform for educational programs, but that it also will serve as a destination for Crossroads hikers and picnickers.