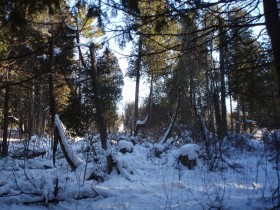 Trails:  Groomed on Monday. Skiing very good in the mornings.
The Master Gardeners are gearing up for spring, and here at Crossroads we've had a first. The first packets of seed arrived from Seed Savers for our Heritage Garden and  our Family Garden Classes. Some of the plants from the Crossroads Greenhouse will end up growing in the Community's Garden.
The Master Gardener Lecture on Tuesday, February 26 at 7:00 will feature "The Community's Garden of Sturgeon Bay". Located on 16th Place near Ministry Door County Medical Center, The Community's  Garden has made terrific progress since its founding.   Attendees will learn why a community garden was started in Door County, what other community gardens are available in neighboring communities, and what benefits a community garden adds to a community's infrastructure.  The update will include a discussion of the educational offerings available at the garden site as well as policies for garden plot renters.  Leading the program will be Jenny Spude a Community Garden board of directors member and UW Extension nutritionist, board member John Meredith of Lakeshores Landscape, and Rob Burke, UW Extension Community Development Educator.