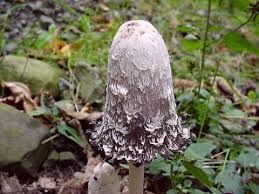 Crossroads at Big Creek will be closed on the 4th of July.

 

That, of course, is Independence Day, the anniversary of the Declaration of Independence.

 

The document was written by the Second Continental Congress and signed by fifty-six men who used in ink made from mushroom juice.
At least that's the story, and I have every reason to believe it is true.

 

The fluid from Coprinus—commonly known as Inky Cap Mushrooms–

 

frequently

 

was used as an ingredient for ink.

 

Around here, the  Shaggy Mane Mushrooms is  the most familiar species of this type of mushroom.
Mushrooms are the fruiting bodies of fungi. Their function is to disperse spores. Mushrooms in the Inky Cap group have a strange, yet effective, method for dong this. . The mushrooms digest themselves. They

 

deliquesce (melt away)into a jet black fluid. This liquid drips to the ground carrying spores with it.
It's amazing. One day (this happens in the early fall) clusters of shaggy mane mushrooms appear looking white and  vigorous, and then within a couple days they just turn to liquid, leaving a black stain on the ground.
Apparently, during Colonial Day, the mushrooms were gathered and when they self-destructed into a black fluid—instant ink!
I'm sure that in 1776, many people feared that our country would be as ephemeral as an Inky Cap

 M

ushrooms….but it looks like the black ink and the ideals it outlined have been quite lasting. Happy Fourth.
We open again on July

 

5 with our summer Family Interpretive programs. Monday through Thursday, our summer educators will be offering activities for learners of all ages in and near the Collins Learning Center. Activities  are free and open to the public and generally last about an hour.  
Crossroads at Big Creek is a donor- supported preserve welcoming learners of all ages to program in science, history and the environment. The Collins Learning Center, located at 2041 Michigan Street in Sturgeon Bay (just beyond the roundabout) is open 12:00-3:00 daily and during scheduled activities. It will be closed on Independence Day.