TRAILS:  Trails: Icy, poor condition. No winter equipment loans this week.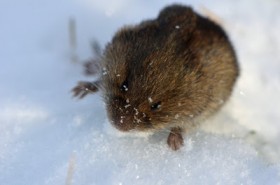 "Beware the Ides of March," If you remember your history or Shakespeare, you knows that the" ides" is the middle day of a month , and in  March, the Ides is a  day infamous as the anniversary of the assassination of Julius Caesar.  A whole group of co-conspirators fell upon Caesar, be felt most betrayed by his friend Brutus, who allegedly made the "unkindest cut of all."
At Crossroads at Big Creek we will host several programs on landscaping while we wait for the snow to melt. And we are   dreading the unkindest cuts in our lawn and landscape plantings. Our  co-conspirators include mice, rabbits, and deer, but we anticipate that the greatest damage this long winter  was done by those chubby  rodents called meadow voles. The Crossroads Educational Theme this year  is:  "Below the Surface" and that is exactly where the meadow voles operate. They create tunnels under the snow, but unfortunately for lawns, voles  don't just burrow through  the white stuff.
The whole length of their meandering trails, voles chew the grass right down to the crown (growing point of grass) and because  they run  along their little runways all  winter, they actually wear little  ruts into the lawn and deposit  copious quantities of their  droppings. When the snow melts, many of us will find their unsightly labyrinthine runways .
Usually, the grass will survive  and grow back. If it doesn't, raking in some grass seed and spreading out the excrement is usually enough to repair the damage. But girdling really is the unkindest cut of all–at least to trees and shrubs.  Girdling involved chopping or gnawing all the way around the trunk .
The outside layer of tree is the bark, marvelous stuff which acts as an insulator, water and fireproofing, and protection. But bark is made up of dead cells.  The center of a tree, is also dead. A surprisingly small portion of a healthy  tree is made up of living cells. And this growing living layer is located just under the bark. The growing layer is the most nutritious, tender and presumably tastiest part of a tree. In winter, the growing layer becomes survival food for a number of animals. Porcupines gnaw it, beavers drag whole trees under water so they can feed on it during winter. Deer consume their share.
Wildlife can be brutal to unprotected trees and shubs, and until the snow melts, we have no way of knowing if those pesky voles have been girdling our ornamental plantings. If the animals gnaw all the way around a trunk, and they've had more than enough time to do so this winter, they destroy the growing layer and disrupt the transportation system. If sap can't run, the tree dies. Understand, though, that  our wildlife can't survive without trees,  or to be more accurate, without native plants.
On Tuesday, March 18. The Door County Master Gardeners will  welcome Sharon Morrisey, Consumer Horticulture Agent for the Milwaukee County UW Extension to Door County for a free presentation titled "Your Lawn- Organic, Conventional, or In-Between"  Since 1992, Ms Morrisey has worked for UW Extension in Milwaukee after serving as the director of the University of Connecticut's Bartlett Arboretum in Stamford, Connecticut.  Born in Illinois and a graduate of the University of Illinois in Urbana where she specialized in ornamental horticulture, she is a well-known gardening expert in south-eastern Wisconsin writing for area newspapers, appearing on television, working with the Milwaukee County Master Gardeners and appearing as a featured guest on Wisconsin Public Radio.  She has authored a beautiful book titled, Large Flowering Shrubs for the Midwest,and now she brings her expertise to Door County residents and Master Gardeners. While it might seem overly optimistic to begin thinking about lawns in March, this program explores the topic of lawn care and will serve as a useful guide to Door County homeowners who are planning their lawn maintenance routines now hoping that the snow will eventually disappear.   Caring for your lawn is all about making choices.  What kind of lawn do you actually want?  What is the best way to mow?  How do you efficiently water?  What about fertilizers?  Should you make your lawn organic?  Do you use chemicals?  How do you assure your lawn is safe for kids and pets to play on?  There are lots of questions and this presentation will help you sort through the vast amount of information that can provide the answers.