Trails: Groomed on Friday afternoon.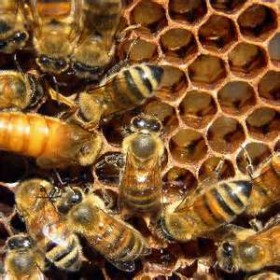 We have a honey of an event scheduled at Crossroads at Big Creek.  The culminating event for Door County Reads. And because the selected  book for 2013 is called The Bee Keeper's Apprentice, we will host a HoneyFest with guest presenter Beekeeper Max Martin.
One of the activities will be a honey tasting center. What? Doesn't honey taste like honey?  Actually no.  Look at the honey section in a specialty market and you will find wildflower, clover, buckwheat, orange blossom…..as many honeys  as  there are nectar-rich flowers and  actually each does have  a distinct taste.
Most people realize that honey is survival food–liquid energy stored by colonies of bees to get through the winter. And through the centuries, beekeepers have learned to take advantage of this wonderful sweet liquid. But how can beekeepers be so sure of the floral source of their honey? And how do they know if the honey in a comb all comes from the same flower species. Truth is, sometimes it doesn't.
But in many cases, honeybees  exhibit a fascinating behavior called "flower constancy."
Last summer, when flowers when flowers were in bloom (try to remember) if a scout bee came back to the hive covered with the scent of a particular flower, the worker bees (her sisters) went out and gathered necture or pollen from that specific species.
Let's face it. Gathering nectar is not like a cheese, chocolate or  wine tasting. A foraging bee doesn't just flit about and sample a whole array of different blossoms and make up her mind which ones she prefers.  Once the scouts have come back with "THE SCENT" and have done their amazing waggle dance to show their sisters in which direction and how far they need to fly, the sisters are compelled to follow the  directions.  In other words–they make a beeline for the selected flowers.
Admittedly if,  for example, a certain flower opens only in the morning, bees might visit a different flower in the afternoon. But that is rare. Most bees stick with the same flower for their entire foraging careers.
So sage honey (now there's an interesting taste) does originate with sagebrush, and clover honey comes from clover, and Door County Wildflower honey—probably spotted knapweed, but it truly is delicious.
A honey tasting station will be but one of many stations families and learners of all ages can visit when Door County Reads concludes  with a Honey Fest at Crossroads on Saturday, February 16!   Max Martin, beekeeper and educator for the U.W. Peninsular Research Station, will tell us about bees, honey and beekeeping.  There will be an opportunity to taste a variety of honey, with additional first-hand learning possibilities.
Max Martin's interest in bees started when he was a little boy growing up on a small dairy farm in central Wisconsin. Max's family made 100 gallons of maple syrup each spring and would trade some of their maple syrup for a cousin's sweet honey. Since maple syrup was common fare for the family,  Max always thought the golden honey was better!   Working at the USDA Potato Genebank in Sturgeon Bay, about 14 years ago Max asked a local beekeeper, Paul Eggert, about the potential for honey bees to pollinate the wild potatoes maintained at the Genebank.  It was then that Paul convinced Max that he should have his own hives and thus honey.  The rest is history; "Max and Dee's Bees" was born. Max has given several presentations to gardening groups, Learning in Retirement, and school groups on beekeeping and bee pollination. He looks forward to sharing his knowledge of beekeeping, hive hierarchy, bee dancing, and how the queen controls the hive without words!
On  February 19,  7:00  Master Gardeners will present the Lecture What's Hot in 2013; Sunnypoint Garden's 40th Year Spring is just around the corner and even though Door County gardens may be buried in snow and ice, now is the time gardeners start planning for next summer.  What does the world of gardening have to offer new this year?  Members of the public are invited to come and discover the finest new gardening trends, from color and container ideas to new garden styles.  Attendees will take a look at the new varieties for 2013 and see what's "hot" this year.  There are new annuals and perennials gardeners won't want to miss.  Kori Zawojski, co-owner of Sunnypoint Gardens & Gift Shop returns this year to point out what's new and exciting!  Not only will she assure that Door County's gardeners are displaying the latest and greatest, but she'll take everyone for a stroll down memory lane as Sunnypoint Gardens celebrates 40 years and counting.  Those present will relive some past garden trends and compare them to today's gardens.  Things have changed!  Last year's program was standing room only, so guests should arrive early.