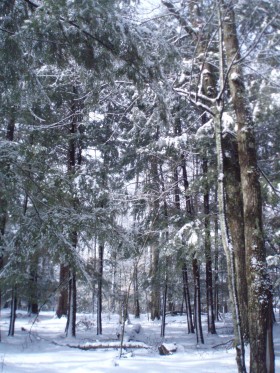 Trails: Trails were groomed Friday morning. Excellent conditions.
Crossroads is a partner in the Door County Festival of Nature, so last May, I found myself leading a group of folks, some local but some from out-of-state, on a hike along Ellison Bay Bluff.  The narrow path led into mysterious grove of ancient trees when one of the hike participants broke  into tears. "Hemlocks!" she whispered, her southern accent revealing her origin. "I thought I'd never see a healthy hemlock ever again.  They are so precious. "
Eastern Hemlock trees are precious.  Researchers from the National Wildflife Society list 120 species which use hemlock forests for habitat and explain  that "hemlocks profoundly affect water dynamics eastern mountain ecosystems, regulating stream flow and moderating water temperature. They also minimize nitrate and other nutrient runoff , thereby improving  downstream water quality for human consumption and wildlife."
We have three or four of these majestic trees at Crossroads, but  in the Ida Bay Forest, which The Nature Conservancy recently donated to Crossroads, groves of hemlocks are stunningly beautiful and [this is very special], the evergreens seem to be reproducing. Perhaps should be very grateful for the brutal cold spell we just experienced.
In warmer climates like the southern Appalachian Mountains, where hemlocks once flourished,  tiny aphid-like insects called  hemlock woolly adelgids (HWA) have killed almost 95% of these remarkable trees. The insects, originally from Japan,  were accidently introduced to the West Coast.  They were first discovered in Virginia in 1951 and without natural enemies , other than extreme cold, they spread. [It should be noted that in Asia, these  insects survive in chilly climates, so is possible that even extreme cold won't protect our trees in the future.]
The tiny (nearly invisible)  insects have piercing/sucking mouthparts and they are able to suck  the sap from the hemlock needles, which would be bad enough, but they also  inject a toxin into the trees which causes needle drop. The trees are literally sapped of their vigor, eventually turning grey and dying, often in less than five years.
Scientists have tried small-scale interventions. A few insecticides seem to work on individual trees, and researchers are experimenting with insect-killing fungus,  but for large infested  forests, just about the only thing that seems to work (so far) is a cold, hard winter.
It's easy to tell if a tree is infected because the reddish eggs are laid in white, cottony-looking masses  at the base of  needles on young hemlock twigs. Surprisingly, these insects rest  during summer, becoming active–read that "destructive"–in fall and even winter. And  as winters have become warmer along the East Coast, the HWA infestation has expanded northward.
But while hemlocks seem to be thriving  here in Door County (and may that ever be so) , they should be appreciated. On Friday, January 17, at 11:00, Crossroads will sponsor our first exploration of the Ida Bay Forest will a hike, "In Search of Hemlocks." Meet at the Collins Learning Center parking lot and the group will travel to Ida Bay for a gentle  ramble.
Our friends in Master Gardeners remind us that spring really is just around the corner and even though Door County gardens may be buried in snow and ice, now is the time gardeners start planning for next summer.  What does the world of gardening have to offer new for 2014?  
Members of the public are invited to a lecture on Tuesday, January 20 at 7:00  called "What's New in 2014?"to discover  gardening trends, from color and container ideas to new garden styles.  Attendees will take a look at the new varieties arriving for 2014 and can then begin to dream about adding the newest and brightest cultivars to their gardens this year.  There are new annuals and perennials that gardeners won't want to miss.  That's why Kori Zawojski, co-owner of Sunnypoint Gardens & Gift Shop returns for a third year to point out what's new and exciting!  Her program is always well-attended and informative, so plan to join the crowd.