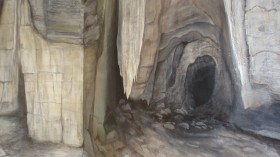 The League of Women Voters will again highlight water quality issues by presenting a public program called
"Protecting Our Ground Water"
at 6:00 PM, Thursday, November 21 in the lecture hall at Crossroads at Big Creek.   Crossroads is pleased to host this program because water quality research has been a part of our mission for the past decade. This week, Crossroads has cooperated in another water quality research effort sponsored by the EPA (Environmental Protection Agency).
          The EPA currently is conducting  Phase 3 research preparing for a revision of  the Unregulated Contaminant Monitoring Rule for Public Water Systems. In this phase of their program,  they have contracted with Great Lakes Environmental  Center of Traverse City, Michigan to collect data for unregulated contaminants suspected to be present in drinking water, but do not have health-based standards set under the Safe Drinking Water Act.  While Pre-Screen Testing  is  being done  throughout the Great Lakes region from 2013 through 2015, the Door Peninsula is of particular interest because of our Karst topography.
          Early research focused on toxic chemicals, but Crossroads was tested for biological contaminants. Using very new or specialized technology, researchers will look at two virus  and five pathogen indicators.
Last week,  Mike Carlson of White Water Associates, Inc., Anasa MI  conducted standard water quality tests—chlorine, turbidity, pH and temperature—- before filtering  1800 liters of water (three hours!) before collecting  samples  and sending them to specialized  private labs for analysis of total coliform,  E coli, enterococci, bacteriophage, and aerobic  spores.   Every effort was made to keep samples sterile so as to collect reliable data.  Eventually, the  results will  be included in a data base which will be available on-line.
          The upcoming  League program will focus on local  efforts to protect water in Door and Kewaunee Counties.  Speakers will include Jim Kettler for the Lakeshore Natural Resource Partnership, Dean Hoegger from the Clean Water Action Council and representatives from  the Door County Soil and Water Department. The speakers will describe what their organizations do and share how citizens can help to protect our water resources.  The program will be free and open to the public.
          Quality water actually improve quality of life.   Lately, we've explained that walking in a natural setting can increase self-esteem, improve heart health, and slash high blood pressure, but research also has demonstrated that walking or even sitting near water can reduce stress and elevate mood. This fall Big Creek is running and very soon , hikers at Crossroads will have a place to sit and enjoy Big Creek thanks to the Eagle Scout project of Collin Mirkes.
          Collin, his family and Scouts of Boy Scout Troop 1022 and their families  have created an Observation Deck overlooking an especially lovely stretch of Big Creek.  The Community is invited to join the Scouts on  Saturday, November 16, at 9:00  for the  Dedication of the Observation Deck  followed by an optional interpretive hike.  Meet at the Collins Learning Center at  8:45 or enter Crossroads at the Hanson House entrance off Utah Street .  And then plan to visit it the new Observation Deck  after a snowfall, while marsh marigolds are blooming, during sucker spawn, and throughout the spring, summer and fall.
Crossroads at Big Creek is a donor supported preserve welcoming learners of all ages to programs in science, history and the environment. The Collins Learning Center, located at 2041 Michigan in Sturgeon Bay, is open 2:00-4:30 daily and during scheduled activities.
Saturday, November 16, 9:00 Dedication of the Observation Deck
The community is invited to dedication of the Observation Deck on Big Creek, the Eagle Scout project of Collin Mirkes.  An optional interpretive hike will follow the short ceremony. Free and open to the public. Meet at the Collins Learning Center at 8:45 or use the Hanson House Entrance off Utah Street.
Monday, November 18, 10:00   Friends Workday
All willing volunteers are welcome to join the Friends of Crossroads as they prepare the lower level of the Learning Center for ski season and finish caging the young cedars which were planted by Sunrise students last spring. All are welcome. Meet at the Collins Learning Center.
November 19, 5:30 Deck the Halls Party All are welcome to help Friends of Crossroads as they prepare the Collins Learning Center for the holidays by 'decking the halls" and sharing   wonderful refreshments and fellowship. A wonderful way to get in the holiday spirit.   Meet at the Collins Learning Center.