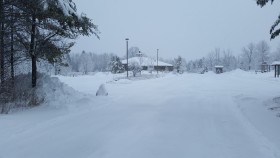 TRAIL:  SKI SEASON IS OVER AT CROSSROADS.
All trails are now open,  but in spite of the snow, we will not be grooming.
On Tuesday, March 14 at 7:00, as a part of the popular Master Gardener Lecture Series, in the program "Green Initiatives at Crossroads" we will describe landscaping with

 

native plants selected to provide nectar in summer/ seeds and berries in winter to attract birds, butterflies, and other pollinators. Slides will illustrate how we

 

are creating water features …a dry stream, pebble pond, and a bog-like retention pond

 

(all of which will also aid in storm water mitigation., either channeling or retaining

 

water which otherwise would end up on our parking lot) to attract birds and butterflies.
For those who love the outdoors, but are unable to explore, this accessible garden will be a welcome destination and also

 

a place where families can share nature.
In the second half of the program, Crossroads Land and Facilities Manager Rich Propsom will explain

 

how our

 

much- needed parking lot expansion will

 
 

showcae the Best Management Practices (BMP) for water filtration and retention techniques for storm water mitigation. We hope our demonstration project will serve as a

 

 

model for area contractors, engineers and city planners and also for area residents as they face the challenging water issues of the Door Peninusala

 

.