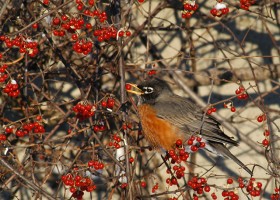 "Eat more fruit and vegetables" the news reports  tell us. Seven portions a day will increase health and prolong life.  The new recommendations are based on research published in the  Journal of Epidemiology and Community Health and we at Crossroads at delighted to have science-based evidence of what we  always have believed.  In fact, this week, we are focused on fruit because the UW-Extension and Peninsular Research Station are holding their annual Fruit School at Crossroads.
Life-prolonging benefits of fruit are even more obvious in nature.  Migrating birds began filtering  onto the peninsula long  before spring had sprung. Those birds which depend on insects and worms have found the picking mighty slim.  Already depleted and stressed  by the rigors of long-distance migrations, some birds may starve this year.
Fortunately, some trees and shrubs such as crabapple, mountain ash,  sumac, highbush cranberry and other viburnums, and Virginia creeper hold on to their fruits throughout the winter.  Windfall apples are still available in places snow has melted.  For birds like robins and bluebirds, these fruits can serve as subsistence food until insects become available.
The truth is, a few robins have been here throughout this brutal winter, surviving on fruits and berries. Waxwings can migrate, but many of these birds also  spend the winter here. Flocks of waxwings have traveled throughout the region, glutting on berries  which, by this time of year, have  fermented. And, yes. Birds can and do get quite tipsy.
In nature, fruit can prolong life of adult birds, but to raise young, birds (even fruit-eating birds) must have access to  insect protein. This year, early-nesting birds may be in real trouble. If we don't get warm weather soon, parent birds  won't have insects to feed their young. And if spring snow and ice storms continue,  birds may get trapped in their roost holes or nests and may either starve or suffocate.
On Wednesday at 2:00, we will be screeni a video on the importance of insect proteins for baby birds and the importance of native plants. "Doug Tallamy Live"  is a lecture by the author of the book  Bringing Nature Home. It explains how with can change our landscaping to encourage biodiversity.
And speaking of landscaping, "Landscaping 101"  the title for Master Gardener lectures on  April 15 and 22. During the first lecture, Tom Luebker will discuss "Choosing Plants Wisely."  He will describe the  the various (and somewhat unusual) conditions in Door County and suggest plants that are most likely to grow here.
And speaking of gardening, our Family Garden program will start on April 16, but pre-registration is required.  The application is available on the Environment Page of Learning Opportunities on the Crossroads website or at  the UW-Ext. Office.