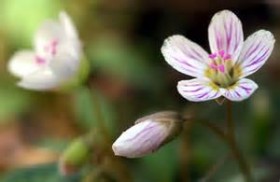 A couple weeks ago on a cool, overcast day, a photographer stopped in at Crossroads at Big Creek. He was  hoping to get some good close-ups of Spring Beauties. I explained that these delicate pink- striped wildflower don't grow at Crossroads…..but even in woodlands where the habitat is right for them, Spring Beauties hadn't been all that beautiful in early May.
Most of us understand that woodland wildflowers bloom in the spring before the tree leaves open. Spring sunlight is necessary for photosynthesis, so the leaves must collect solar energy when they can.
But sunlight is important for another reason…..especially for those wildflowers that are pollinated by insects. An  insect is more or less grounded unless its body heat reaches a certain temperature.  On cold days, the little flight muscles are not warm enough to work.  On sunny days, insects usually can bask in the sunshine enough to warm up, but on cloudy days, unless it is reasonably warm–which it wasn't in the early part of this month, insects can't use their wings.
Many spring flowers open only when the sun is shining…..or if it is warm enough for pollinating insects to fly. Spring Beauty is a perfect example. On a sunny day when insects are flying, the blossom literally turns toward the sun.  On an overcast day, the flower bud closes tightly and droops on its slender stem. Why risk losing pollen in crummy weather?
Fruit trees are depend on flying insects as well.  The blossoms on cherry and apple trees are  viable for pollination for only a  few days. If those crucial days are cold or cloudy, the pollination will not occur.  It is probably obvious that the greater the population of  pollinating insects, the better the pollination.  And that means better fruit production.  We now realize that wild bees are extremely important pollinators, which is another reason that biodiversity is important. For wild bees to thrive, they need to have access to blooming flowers in spring, summer, and fall.  Orchards located near forests and meadows…. places where a succession of flowers bloom throughout the growing season…..are most likely to be fully pollinated  IF it is warm and sunny.
We're hoping the coming weekend is warm and sunny  because Door County Festival of Nature will be celebrated through the cooperative efforts of The Ridges Sanctuary, The Nature Conservancy, The Door County Land Trust, Wisconsin Department of Natural Resources, and Crossroads at Big Creek.
"The Peninsula's unique biodiversity and natural beauty are the focus of this event.  Now in its eleventh year, the Festival is an opportunity to learn more about wildflowers, geology, birds and insects through field trips and hands-on programs. Field trip leaders will guide participants through some of the most pristine and unique natural areas in the county, some of which are not typically open to the public."  Consequently, while Crossroads will be open for hiking, no public hikes will be offered so we can participate in the Festival.   For more information visit  http://doorcountyfestivalofnature.org
Another opportunity for people who want to provide good habitat for pollinating insects is the Master Gardeners Annual Plant Sale on Saturday, May 25  from 9:00-12:00 noon at the UW  Peninsular Research Station (just north of Sturgeon Bay on Highway 42.) A huge variety of pollinator-friendly (and gorgeous) plants will be available and some of the proceeds will help fund the wonderful Master Gardener lectures held at Crossroads.