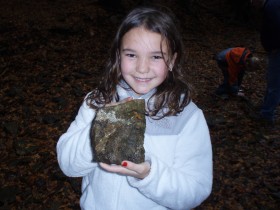 During the school vacation this week, Crossroads will offer its Cross-Generational Classes. A generous grant from the Door County Community Foundation enables  Crossroads to offer these learning experiences free of change, but one adult and one youth (ages 7-12) must participate together and pre-registration is required.
On Friday, October 26, from 10:30-12:00, a "Make and Take Bird Feeder" class will give pairs of learners the chance to make their own bird feeders.  Saturday, October 27, 10:30-12:00, the class is "Door County Fossils" and each pair will receive a fossils key and weather permitting, go on a fossil hunt at the Hidden Classroom and Big Creek. 
To enroll, call 746-5895, give the name and age of the young person and the name of daytime phone number for the adult. Classes are limited to eight pairs of learners but if fewer than four pairs enroll, the class will be canceled.