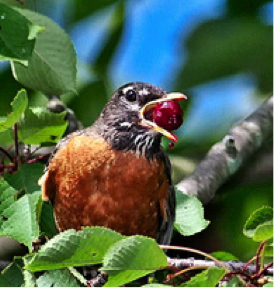 Door County has cherries this year!  At one time, the land now Crossroads at Big Creek was an orchard with 30 acres devoted to cherries. Today, our cherries are the wild native kinds, but when fresh domestic cherries are available, we at Crossroads, as a public service, remind everyone that cherries are best eaten in moderation.
The laxative properties of cherries have long been known to scientists, Door County natives, and to many of our visitors.   Actually, this is a reproductive strategy for many trees and shrubs. Brightly colored seed-bearing fruits attract birds which swallow the fruits whole. Many summer fruits contain chemicals which cause the birds (or little mammals) to excrete the seeds within minutes.
According to researchers who study such things, a seed which passes through a bird's system quickly is more likely to germinate than one which remains in the bird's gut for more then thirty minutes.
Consequently, fruits which have a laxative properties are more likely to be spread by birds. This is true of the wild cherries at Crossroads and unfortunately, also true  for some invasive species. Buckthorn comes to mind.
And domestic cherries? Well, cherries contain antioxidants and are thought to provide a number of health benefits. But for fruit-eating birds and humans, they do have a laxative effect, so unless you need that particular kind of help, moderation in consuming cherries is a very good idea.
During August and into the fall, we will resume our buckthorn eradication efforts. Buckthorn "Parties" will be scheduled from 8:00-9:30   Tuesday and Wednesday mornings (unless it is raining)  beginning August 7  and in September we will expand the program. But if you can't come in the mornings, call 746-4595. We can arrange times to train volunteers who then can work at their own preferred times.
On Tuesday, August 6, the Door Peninsula Astronomical Society holds its monthly general meeting at 7:00 at the Collins Learning Center.
Tom Minahan will present the viewing topic of the month. Professor Ray Stonecipher will present the feature program:  "The Sun" during which he will discuss the rather intesne investigations of the Sun that have  been carred on by NASA, ESA, and Japan. According to Dr. Stonecipher, the Sun has undergone  a rather complete autopsy. Refreshments will be served. Free and open to the public.  Please use the Utah Street Entrance to reach the Stonecipher Astronomy Center.