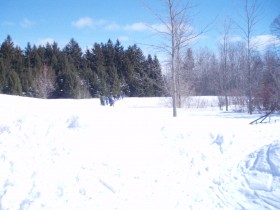 Now that we've seen our first snow, the Friends of Crossroads are busy preparing the Crossroads Learning Center for the holidays and the Lower Level of the Center for Ski Season. Any day now (they hope) snow will blanket the preserve and our Winter Outdoor Programs can begin.  Blanket is the right word to describe what snow does, for it acts rather like a down comforter.
Fluffy down feathers (whether on a bird or in a comforter)  trap a lot of air. Those pockets of trapped air are insulators.  The air trapped in the fluffy feathers keeps  warm air in and cold air out.
Most folks remember cutting  paper snowflakes. After folding paper, you cut lots and lots of holes. Real snowflakes have far more spaces  than cut paper ones. Consequently,  snowflakes trap a lot of air. Also, when snowflakes gently fall to the ground, a significant volume air gets trapped between the flakes.
Now much is a lot? Fluffy snow can be 90-95% trapped air. The trapped air keeps the cold winter air from getting down to the warmer soil.  It's estimated that  freshly fallen snow has an insulation rating of R-18. This means that it is warmer under snow. Wild birds and animals are well aware of the blanket effect of snow. Last winter a group of kids were startled when they  scared a ruffed grouse out of its snowy roost. Grouse regularly sleep under a blanket of snow.  Other birds and mammals sometimes  dive into snow to escape bitter winds (or predators.)
Mice and meadow voles take advantage of the space created when heat within the Earth melts the bottom layer of snow. These creatures tunnel under the surface, eating grass and chewing the inner bark of woody plants.  Last winter,  we  had such a long period of snow cover, our lawn and  many of our trees and shrubs were damaged by these hungry mammals.
Snow acts as a blanket to protect plants from both cold and wind. Young plants are much more likely to survive in winters  when snow falls before it gets brutally cold.
The air pockets in snow can make walking difficult . Crossroad,s in collaboration with Ministry Door County, is really encouraging walking.  Once we have that fluffy stuff, folks are invited to borrow snow shoes and explore the entire preserve (except  the ski trails) on Sunday afternoons. But most hikers prefer trails, especially "rolled"  trails.  Once snow is deep, Crossroads grooms walking trails with a heavy roller pulled behind a snowmobile. The roller forces the air out of the snow, compacting it for easier walking.
This winter, thanks to  Boy Scout Troops 1022 and 1041, Crossroads has several new trails, and the Crossroads Building and Grounds Committee has  re-designated several ski trails for walking.  Astronomy buffs will be happy to know that The Planet Walk on Ole's Trail (between the Collins Learning Center and the Astronomy Center)  will now be a walking trail, which  also means that now hikers can use the Council Ring during Ski Season.
Speaking of walking, many walkers avoid their normal routes during hunting season. This year, Gun Deer season runs from November 23 till December 1. Because Crossroads is within the city limits of Sturgeon Bay, hunting is not permitted and hiking encouraged. All trails will be open until we have "useful" snow. Once we begin grooming, we ask hikers to avoid walking on designated ski trails.