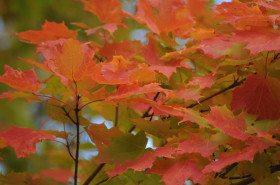 Because we boast three solar arrays, "sunshine is money"  at Crossroads at Big Creek.  But it seems like our productivity-electric and personal, our health and our moods are affected by weather. I've got to confess that when the sun is shining, my personal world is more colorful. That is true of  autumn trees as well.
Most people realize that the brilliant coloration of autumn leaves foretells impending death. But have you ever noticed that the trees on the edges of the forest turn colors first and that they often are red? Several factors are involved.
Yellow pigments are always in leaves but they usually are masked by the intense green of chlorophyll. In fall, a specialized set of cells called the abscission layer forms across each leaf's stem. Eventually, the leaf will break off and fall at this point. But the
corklike
 layer also cuts off the flow of water and nutrients to the leaf. Chlorophyll is used up with exposure to light, and  without water and minerals, no new green bodies are formed. Consequently,  the yellow pigment is revealed. In years when we have a run of cloudy and foggy days, most leaves turn drab shades of yellow.
But when days sunny and the nights are chilly (but not below freezing), red pigments can develop in the leaves of certain tree species. Trees on the edges—of fields, of roads, of lakes, and in yards—receive far more sunshine than forest trees. Trees in sunshine turn deep orange or red, and it looks like this is going to be one of those years when the red pigments. the
anthocyanins
, will kick in.
Stressed trees almost always turn first and  trees on the edges tend to be stressed. They are buffeted by far more wind than those in the forest interior. Trees near pavement tolerate drought conditions, even in rainy years like this one. Trees on the edges of wetlands or lakes experience too much water and often nutrient poor soil. Stressed plants turn color first. And aren't they gorgeous?  Red trees can elevate
one's
mood almost as well as bright sunny days.
Not surprisingly, weather and colors will be the topics of school field trips this week. We expect several hundred young learners to do investigations. The
pre
-school and primary aged schoolchildren will use autumn leaves and flowers to learn their colors.
But kids grow up fast. The sixth grade students from T.J. Walker Middle School will be recording weather conditions and with the help
GIS
computer mapping software, they will create sophisticated analytical  maps of the Crossroads preserve showing the micro-climates. (Education has come a long way since I was in sixth grade and map studies meant using different colored pencils for each state or country.)
After school and work hours, the trails are bustling with nature lovers and runners. This Thursday, Crossroads will host a Cross-County Meet beginning at 4:00.  Monday, October 6, we hope moonlight lights the trail for an Autumn Evening Hike at 7:00.
Crossroads is a donor-supported preserve welcoming visitors of all ages to programs in science, history and the environment. The Collins Learning Center, located at 2041 Michigan in Sturgeon Bay, is open 2:00-4:30 daily and during scheduled events.