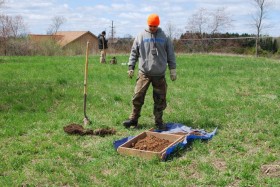 As stewards of the land, we at Crossroads at Big Creek want to learn all we can about the history of our property. Early land records suggest our property was first cleared by loggers of European descent in the early 1850s. But we have always believed that since the retreat of the Ice Age Glaciers, Native People spent time and perhaps lived on the land beside Big Creek.
          So strong was our belief, that before we paved our  parking lot and built the Collins Learning Center, we conducted an archeological survey under the direction of Dr. Victoria Dirst. Middle school students were involved in the survey, which proved to be a fabulous learning experience. Although little evidence existed in the areas we developed, shovel testing between the parking lot and Big Creek revealed some artifacts which suggested a Middle to Late Archaic Native American component.
          Now, as we look forward to reforestation and trail building projects throughout the property, the Board of Crossroads agreed that it was appropriate to survey the rest of the land. We obtained a proposal from Midwest Archaeological Consultants of Sturgeon Bay for a Phase I Intensive Archaeological Survey of the Crossroads property. According to the Proposal Overview, "the intent of the proposal is two-fold. The first part is to…locate historic properties and determine the extent of these properties within the confines of Crossroads at Big Creek. The second part is to utilize the Intensive Phase I archaeological survey as a teaching instrument for students to gain hands on experience in archeology…"
          Through grants and designated gifts, we obtained enough money to start the project….but not enough to survey the entire property. Should we just grid the land and work until we run out of funds? Should we survey the areas where we suspect evidence of habitation is most likely? Or should we survey the area slated for disturbance?
          Last spring, as a part of their Earth Day Celebration, the students of Sunrise School planned to plant trees in the area east of the Astronomy Campus. For that reason, Crossroads Board decided to survey that parcel
before
we established a forest, and then, to use the remainder of the funds to survey the areas around Big Creek.
          The initial survey took place last spring—though that May weekend felt more like winter: complete with snow, rain and nasty winds. Randy Dickson, the principal investigator from Midwest Archaeological Consultants, and two qualified field technicians found artifacts up on the hill which would be consistent with a very short-term occupation site, but they did not find evidence of a more permanent campsite/village. So the Sunrise Students went ahead and planted 380 trees.
          Starting this week, Mr. Dickson, assisted by archaeologists Larry Meier and James Clark, who are two of the most experienced field archaeologists in the Midwest,  will shoot a N/S line with a transit and form a grid along the creek corridor. Then in October, we plan to implement a shovel testing regiment along the grid in a systematic attempt to locate prehistoric sites.  This is when our outreach/educational efforts will begin.
          Because Crossroads is dedicated to experience-based activities for learners of all ages we are hoping to involve adults and students. Learning opportunities will include archaeological methods, techniques, and theory as well as cultural history. Flint knapping demonstrations and other Native American technologies will be offered. Details and schedules for outreach activities will be released in the near future.
Crossroads is a donor supported learning center welcoming learners to programs in science, history and the environment.
In fall, the Collins Learning Center, located at 2041 Michigan in Sturgeon Bay, is open 2:00-4:30 daily and during scheduled activities.
Our trails are always open. Pets (on leash and under control)  are permitted.
Friday, September 13, 7:30 Bird Walk
Join the naturalist in search of the elusive fall birds. This one hour walk will visit the various habitats of Crossroads. Loaner binoculars available. Meet at the Collins Learning Center.
Monday, September 16, 9:00 Nature Hike
Join the naturalist for a morning walk through the fields and forests of Crossroads. Meet at the Collins Learning Center.
Thursday, September 19,
6:00 Door County League of Women Voters Program: Water Quality in Door And Kewaunee Counties.
This free program will highlight water quality data collected over the past recent years in Door and Kewaunee Counties. Peter Sigmann, a member of Door Property Owners and the League, will present lake and well water data collected from Little Sturgeon over a 12 year period. Members of Door Property Owners have volunteered their time carefully collecting and logging data. In addition, two members of Kewaunee Cares will share information gleaned from their stream and well measurements. Kewaunee Co has an evolving groundwater situation that could affect Door County. For more information contact Barb Graul at 743-6842.