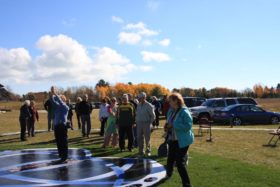 At the Astronomy Campus on the grounds of Crossroads' Big Creek Preserve, the partial solar eclipse last August inspired hundreds of Door County residents to  gaze at our nearest star. For  many, this awesome event stimulated or renewed an interest in astronomy. The Door Peninsula Astronomical Society, an organization dedicated to promoting the science and public education of astronomy, is offering Astronomy Day 2017 for learners of all ages who want to learn more about the wonders of the universe.
On Saturday, October 14,  activities will be offered  from 1:00-4:00 in the StarGarden, the Leif Everson Observatory, and the Stonecipher Astronomy Center, all located on StarGazer Trail, 2200 Utah Street (at the Cove Road intersection) in Sturgeon Bay.
While the DPAS Astronomy Day may not eclipse the eclipse, weather permitting, participants will again  view the Sun safely using a solar projection telescope and scopes with solar filters. Understand that  eclipses are totally predictable, but Sun is dynamic and in many ways unpredictable. Solar viewers might see sunspots, solar flares or possibly even a coronal mass ejection. Or they may see what appears to be a featureless round ball. With the Sun, one never knows.
But one can know where the Sun will be in the sky at any given hour of any given day. That is how the analemmatic sundial works and on Astronomy Day visitors will get to try it for themselves. They also are invited to tour the Leif Everson Observatory, see a Planetarium Show in the Stonecipher Astronomy Center, and to experience  demonstrations on comets and moon craters or take the Planet Walk. All activities are free and open to the public.
On Thursday,  October  12,  from 9 am – 12:30 pm, a forum sponsored by the Door County Invasive Species Team, (DCIST)  titled "Door County: Joining Together to Confront the Invasive Species Challenge"  intended for landowners and organizations will  focus on invasive species and the innovative ways to slow their spread in Door County.
Members of the DCIST  and Door County landowners will share information about initiatives underway in Door County to combat invasive plants and animals. These initiatives include local ordinances, 50/50 grant and cost-share programs, volunteer resources and equipment loan program, invasive species control in right-of-ways, and more. Time is set aside for professionals and  landowners to share ideas on how to work together to combat invasive species.
Register in advance for this free event at eventbrite.com/e/door-county-joining-together-to-confront-the-invasive-species-challenge-tickets-37853390510. A donation of $10 is suggested on the day of the event. For more information contact Kari Hagenow at dcist1@gmail.com
Crossroads at Big Creek is made up of three properties:  Ida Bay, The Cove, and the Big Creek Preserves. The Collins Learning Center, located at 2041 Michigan Street, is  open daily 2:00-4:30 and during scheduled programs.  The upgraded Parking Lot, restrooms and trails are always open.