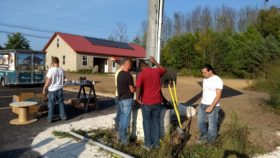 The leaves are turning, southbound  birds  are passing through and the last of the migrating monarch and butterflies are stopping in the flowery uplands and gardens to Crossroads to refuel.
Even our Kindergarten visitors know that monarchs need milkweed to survive. But this time of year, milkweed plants (which bloom mid-summer)  are of absolutely no use to our migrating butterflies.
Milkweed is a host plant. It is the one and only type of plant on which monarch caterpillars can feed, so female monarchs with incredible accuracy, seek out and lay their eggs on milkweed plants. But in late summer and early fall, monarch are not laying eggs. They are getting ready to migrate or moving through from points north.
In early fall, monarchs are seeking out blooming flowers…..flowers that are rich in nectar. They are consuming as many carbohydrates as possible in order to fuel their trip to Mexico. They fly about 50 miles a day, but [I find this amazing] if they are able to refuel on flowers all  along their route, they weigh more when they arrive in their winter roosting site than they when they began their trip.
They are able to do this by riding thermal updrafts high into the sky and then gliding to the next flowery stopping place, where they refuel again. By refueling throughout their migration,  they have the energy to  migrate and still have enough body fat to enable them to make it through the winter and then,  fly from Mexico to the Gulf Coast in the spring.
Monarchs are not alone in fueling up this time of year. Most (but not all)  birds and mammals, whether they migrate, hibernate or stays active during the winter, eat as much as they possibly can because they  will have a far greater chance of survival if they have stored up a layer of fat for insulation and also to provide energy during the snowy months.
We humans use food for fuel, but to refuel our vehicles, most of  us go to a gas station. But the world is changing. More and more people are fueling up by recharging their electric vehicles (EVs).
During alternating years, Crossroads undertakes  an energy project to demonstrate our commitment to renewable energy and to reduce our carbon footprint.  In 2017,  the obvious project was the installation of an electric vehicle recharging station in our recently completed  environmentally-friendly parking lot.  Serving two vehicles at once at up to 75 amps each, the unit is, appropriately, located next to our main solar array at the east side of the parking lot.
The recharging station, made possible by our friends at Lake Michigan Wind & Sun, was installed last Wednesday by the students of the NWTC Renewable Energy Program under the direction of John Hippensteel. The JuiceBox Pro works with cars that have a standard J1772 charging port or adapter.
Our hope is that EV owners will recharge their souls by enjoying a nature hike at Crossroads while they recharge their cars….and that soon, our two spaces will not be sufficient to meet the needs of our green-living visitors.
Crossroads at Big Creek is made up of three properties:  Ida Bay, The Cove, and the Big Creek Preserves. The Collins Learning Center, located at 2041 Michigan Street , is  open daily 2:00-4:30 and during scheduled programs.  The upgraded Parking Lot, Restrooms and trails are always open.   
 Thursday, September 28                                                                                                                                                                                                        4:30 Cross Country Varsity Invitational                                                                                                                               Middle and high school students from Sturgeon Bay, Algoma, Sevastopol, Southern Door and Northeast Wisconsin Christian Homeschoolers Athletic Association will  race on the natural terrain of Crossroads' Big Creek Preserve. Spectators should park in the lot at the Collins Learning Center, 2041 Michigan Street just east of the roundabout in Sturgeon Bay. Free and open to the public.
Tuesday, October 2                                                                                                                                                                     7:00 p.m. October Meeting of the Door Peninsula Astronomical Society
Visitors are always welcome at the monthly meetings of DPAS. The programs include a brief and a feature lecture and refreshment. Meet at the Ray and Ruthie Stoneciper Building 2100 Utah Street. (the intersection of Cove Road and Utah. Turn in to Stargazer Trail.) Free and open to the public.