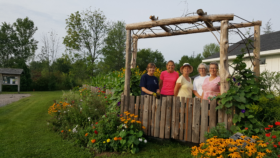 Volunteers from Master Gardeners and the Sturgeon Bay Home and Garden Club have been tending the Heritage Garden at Big Creek and it is thriving. It is thriving without the use of chemicals. How?  Lots of weeding, mulching  and help from beneficial insects.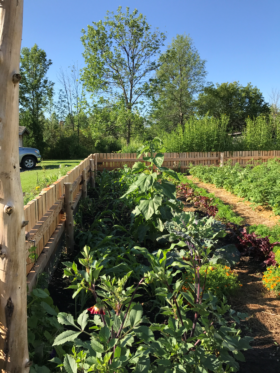 According to Wikipedia, " Beneficial insects are any of a number of species of insects that perform valued services like pollination and pest control.  The concept of beneficial is subjective and only arises in light of desired outcomes from a human perspective."
OK, so I am human. I get it.   I like insects that pollinate flowers. I like pretty butterflies. I don't like the insects that sting me, chew up my garden or kill ash trees. A rose bush covered in aphids makes my hair curl.
An article in Mother Earth News explains the term beneficial insects well: "The three 'P's' of beneficial insects are pollinators, predators and parasites. Pollinators, such as honeybees, fertilize flowers, which increases the productivity of food crops ranging from apples to zucchini. Predators, such as lady beetles and soldier bugs, consume pest insects as food. Parasites use pests as nurseries for their young. On any given day, all three 'P's' are feeding on pests or on flower pollen and nectar in a diversified garden. If you recognize these good bugs, it's easier to appreciate their work and understand why it's best not to use broad-spectrum insecticides.
If we spray insecticides on the insect pests, we also kill the beneficial insects. This is unfortunate. And unnecessary, because usually, given time, in a well managed garden, the "good guys" will eliminate, or at least, knock back the "the bad guys".
Spraying usually does not turn out well.   Say you discover a wave of insect pests. (Cringe.) So you spray them, but unintentionally, kill their predators. When the next wave arrives (they do seem to arrive in waves), the garden is defenseless.
Another scenario is that you spray the vegetables in your garden with poison (can that be a good idea?) and you kill most of the insects. But you don't kill all of them. You never do. Maybe you miss a spot, or some were hiding under a leaf, or were in the egg stage  and hatch later. The sad fact is that insect pests almost always reproduce faster than their predators. The few predator survivors will simply be too outnumbered to ever control the pests.
And of course, any broad spectrum insecticide will kill pollinating insects….and pollination is an extremely beneficial service of insects…..a service to humans…. and also the wildlife that depend on seeds and fruits for some or most of their diet.
Pollinators and beneficial insects are more likely to locate and hang around  your garden or landscape or orchard if nearby, they find native plants blooming.  Our speaker will give advice on which plants will lure the insects we desire.
This is sad time at Crossroads. We say farewell to our summer educator, Joan Wilkie and our summer intern, Georgia Feldman. This also will be the final week for our beach researchers from the University of Wisconsin-Oshkosh to use our labs.  At was a great summer and we are grateful to our summer staff  researchers, and to the Friends of Crossroads for their efforts.
During our Parking Lot expansion, spaces will be available much of the time, but when heavy equipment is present, we ask that visitors park at the Maintenance Building (first drive east of the main entrance) or at the Astronomy Campus parking lot (intersection of Cove Road and Utah Street). We anticipate that the lot will be closed to vehicles on  Friday, Saturday and Sunday.
Crossroads at Big Creek is made up of three properties:  Ida Bay, The Cove, and the Big Creek Preserves. The Collins Learning Center, located at 2041 Michigan Street , is open 1:00-3:00 Tuesday-Saturday during the summer. Restrooms and trails are always open.
Thursday, August 24 POLLINATOR DAY
10:00 Family Program: Pollinators
Learn about how various insects and birds pollinate flowers and why it is important. Hands on activities for the whole family. Free and open to the public. Meet at the Collins Learning Center.

4:00 Pollinator Walk with Heather Holm
Heather  will  teach participants how to look for, and gently capture (and release) insects. Participants get an up-close look at each insect captured and learn about their biology, their contribution to the pollination of flowers, or their role as a beneficial insect. This hike has a limit of 20 participants, and though it is free, pre-registrations (first come/first enrolled) is required, no exceptions.. To register for the Pollinator Walk, call 746-5895 and give leave your name and phone number on the answering machine. We will get back to you.
​
6:00 Wild Ones Lecture: Attracting Bees and Beneficial Insects
with Native Plants
Most insects have a positive impact in our landscapes. Native plants can be selected to attract specific bees and beneficial insects including predatory and parasitic wasps, beetles, flies, true bugs, and lacewings. Learn about the predator-prey relationships of these flower-visiting beneficial insects and how they help keep problem insect populations in balance. The life cycles, diversity, and nesting habitat of native bees will also be covered along with examples of native plants for different site conditions.This program is free and open to the public. Collins Learning Center at Crossroads.
Tuesday, August 29                                                                                                                                                                                                                                         2:00  Film: Chasing Ice                                                                                                                                                                                                                                                                             Forget about the heat of summer in the air conditioned lecture hall Collins Learning Center to watch this award winning documenary which gathered evidence of the Earth's changing climate  in the far north. Exquisite photography with a message.  Running length 75 minutes. Free and open to the public.Wednesday, August 30                                                                                                                                                                                                                                       2:00 Lecture/Garden Walk: Floral Relationships                                                                                                                                                                                                                                                              A short slide presentation followed by a gentle ramble in the garden will help participants understand how pollinators find the nectar and pollen in our flowers. Free and open to the public. Meet at the Collins Learning Center.