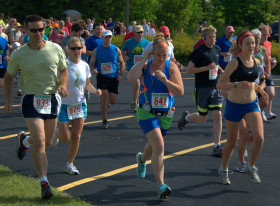 A runner came off the trail at our Big Creek preserve, breathlessly announcing, "I… saw…..

 

a fawn!….It was…really….really…..young."

 

Fawns are spotted in all three of Crossroads properties, and

 

folks training for the Crossroads Trail Run, (which yes, is coming up this Saturday), often see these delicate young creatures this time of year.
Fawns are spotted. I've never counted myself, but reference books state that fawns have approximately 300 spots on their tiny bodies. Spots help them hide in several ways.

 
In each of the three Crossroads properties, there are forested areas where, even on a sunny day,

 

shade is deep….so deep that only small flecks of light pass between the leaves to reach the dead leaves on the forest floor. An  animal with white spots on  a brown coat blends in perfectly.
The spots obscure the shape of the animal….just as [and this is not a coincidence], camo clothing used by soldiers and hunters obscures the shape of a human.

 

It works because the splotches trick the eye (or actually the brain) into seeing small shapes rather than the whole. And if the camouflage colors match the background

 , it is

even harder to perceive a full profile.
Camouflage is important for fawn because many animals would just love to eat them. You would think the predators would just smell them, but—this is weird—fawns are born without a scent. As long as they hold perfectly still, predators cannot see or smell them. Fawns somehow know to be very still when danger is near, and motionless, they are the next best thing to invisible.
The fawns will be out there on race day, but most people will run by without noticing. Because a fawn is spotted, it's really hard to spot.
The 2017 Crossroads Trail Run is scheduled for
Saturday, June 24 with a start time of 8:00 a.m.
It's not too late to register …you can sign up that day.

 

Organizers

 

have ordered a lots of run tee-shirts, so anyone who participates has a really good chance (no guarantees) of receiving a really attractive shirt.

  
All finishers also will be given

 

a small native tree—either a

 

Silky Dogwood, Choke Cherry, or Downy Service Berry donated by Evergreen Nursery. Post-event refreshments include homemade vanilla ice cream
topped with Lautenbach cherries, and freshly made energy squares.
For the first time, Crossroads Trail Run's 10k route will take runners through all three of Crossroads properties: Ida Bay, The Cove, and the Big Creek Preserve. And because a number of new trails have been establish since last year, all runners will pass through new territory
.
The

 

odds of seeing wildlife are not good during the trail run, but that afternoon, folks will have the opportunity to see exquisite images wildlife (and to learn about photography) in the comfort of the Collins Learning Center Lecture Hall when the Door County Land Trust presents "
Professional Wildlife Photography: An Afternoon with John Van Den Brandt."
Join

 

professional photographer John Van Den Brandt for a presentation of wildlife photos from around
the world.
Van Den Brandt will begin with a
n around-the-world photography tour of the animal kingdom 'from A to Z', mixing his stunning images with humor, stories from afield and facts about animals.

 

He

 

also will present 20 practical tips that can be immediately employed by novice or professional photographers, to increase chances of capturing that "shot of a lifetime," whether at Crossroads or in a Door County Land Trust preserve.
Admission is $35/person.
Participants

 

are encouraged to register in advance at www.DoorCountyLandTrust.org/events
, but may pay at the door.