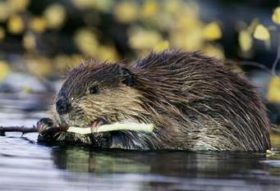 Several weeks ago, a couple—frequent Crossroads hikers and experienced wildlife observers—left a note on my desk: "We saw two beavers in The Cove!"
We knew we had muskrats and otters at The Cove Preserve, but beavers?  And do I think they will try to construct a dam across Big Creek?  Not likely.  Wrong trees!
Beavers feed on a variety of trees, but they prefer slender aspen trees….both as a food source and as a building material. The enormous multi-stemmed cedars growing along Big Creek simply would not meet their needs. And their needs, simply, are to eat and to raise a family in safety. That's why they build dams.
A beaver, or more accurately, a family of beavers builds a dam across a stream to create pond.  The beavers' pond improves their access to shoreline forests, allowing them to reach food sources without leaving the water.  A pond also offers protection for their lodge, which is built in the water and usually has underwater entrance …deterring most predators.
A beaver dam has a profound effect on the hydrology of an area.  The dam not only creates a pond, but also causes water to backup into the surrounding floodplain, creating a wetland.
When this happens in the wilderness, the pond and newly formed wetlands become habitat for a number of plants and animals, greatly increasing the biodiversity of the area. Wetlands also hold water like a sponge, insurance against drought.  Biodiversity, a wildlife food source and habitat, insurance against drought are all extremely beneficial in a wilderness environment, but alas, dams sometimes create problems in agricultural or residential areas.
Beavers have been called

 

"nature's engineers," But calling them engineers suggests that they are intelligent, capable of

 

making plans and solving problems.  They aren't. They work pretty much by instinct and consequently, sometimes make mistakes.
To reach the tree leaves which make up their summer diet, beavers prop themselves up with their flat tails and bite chunks out of the trunks until the trees topple. Usually that works and the beavers munch on the leaves and harvest the branches for building materials.
But sometime they select a big tree and "try to bite off more than they can chew."  Sometimes, they successful gnaw through the trunk of a tree, only to have the branches and leaves become entangled in the forest canopy instead of falling. And the literature is full of cases in which a beaver misjudged and was crushed by the tree it was trying to fell.
When they hear the sound of running water, beavers seem innately compelled to plug the hole through which water is spilling, which is great when they are maintaining a dam. It's not so great if they plug up a culvert causing the surrounding fields or homes to be flooded.
Beavers also make mistakes when siting dams. They might construct a dam in the widest part of a creek when just around the bend, they could have selected a perfect narrow spot.  They sometimes flood out the forest they intended to harvest, or they might dam a stream that goes dry in midsummer.
But beavers are resilient. If a dam fails or if they run out of food, the beavers abandon their old dam and move on. Eventually, without the beavers' interference in the natural flow of water, the wetlands and ponds dry up, new aspens grow,

 

and the water returns to its normal patterns.
In the early years of Crossroads, long before the learning center was built or the Door County Historical Society established the Heritage Village, we received grants to construct dams to create Hauser Pond and Hidden Pond. 
The intent was to provide stop-over spots for migrating waterfowl, but over the years, birds have preferred to congregate in The Cove.  [One of the reasons we were thrilled to add this 9-acre wetland to Crossroads.] In many years, both ponds also dry up before fall and support very little wildlife.
Most people do not even notice the dams, which are part of our current trail system, but those dams have a profound effect on the hydrology of the area. Every spring, when snow melt and rainstorms fill the ponds, excess water backs up creating soggy areas around our buildings. The excess water floods basements and crawlspaces, damages our parking lot, and creates areas of standing water on our trails.
Creating ponds seemed like a good idea at the time.  But in developing  the parking lot expansion and  landscaping plan, our Land and Facilities Manager, Rich Propsom,  became aware that the dams are causing some, and probably most,  of our drainage problems.
So after several month of discussion, at their April meeting, the Crossroads Board of Directors decided we should abandon the dams which clearly are causing problems, and to instead, create a series of swales which will channel water away from the buildings and parking lot, improve the habitat for wildlife, and ultimately, restore the hydrologic system that, through well-meaning human action, has been disrupted.
Crossroads is by no means the only group working to solve water-related problems. On Wednesday, May 3 at 6:30, Dean Hoegger, present of the Clearn Water Action Council of Northeast Wisconsin will offer a program describing on-going efforts to protect the waters of our region. This program is sponsored by Celebrate Earth Week 2017.
So,

 

at Crossroads, May is Arbor Month as well as Earth Month. Students will be planting trees in the southeast corner the Big Creek Preserve, the second phase of planting will take place in the Maki Arboretum. And we will be

 

hosting and holding tree related activities throughout the month starting with a TREE-mendous Family Day on Saturday, May 6 at 2:00-3:30 rain or shine….but we sure hope it will be shine because if it is shine, we will add the hike.  Hands-on activities will be offered for learners of all ages. Meet at the Collins Leaning Center. This program is free and open to the public.
Coggin Heeringa
Director, Crossroads at Big Creek, Inc.
2041 Michigan
Sturgeon Bay, Wisconsin 54235
920-746-5895
Press Esc or click anywhere to return to Mail.