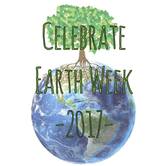 Earth Day—a day devoted to environmental awareness—will expand to a frenetic month devoted to environmental education at Crossroads at Big Creek. We will be collaborating with a number of groups to increase awareness of our uniquely wonderful planet Earth.
On Saturday, April 22, at 7:00, Crossroads will join with the Door County Land Trust and Write On Door County to present "Wild Words-Earth Day", an evening of stories about our connections with the land.
During the program, Door County high school students will tell real-life stories. Each presentation includes 20 slides with 20 seconds for each slide. The stories may be comedic, informative, or dramatic, but they will be told from the heart. For some of these students, this could be the first real flight into public speaking.
The first real flight of a young bird is impressive and inspiring,

 

one of my favorite spring events. Understand that ornithologists divide birds into two groups. "Precocial" birds, such as our iconic Easter birds- chicks and ducklings- are pretty self-sufficient, able to walk and feed themselves the day they hatch.

 
The other type, "altricicial" birds hatch before they are fully developed and these little birds are as helpless as a human infants. Parents must feed, attend to sanitary issues, and keep the nestlings warm and protected until they develop muscles and grow feathers.
Of course, baby birds mature much faster than humans—in two or three weeks, compared to the seventeen or eighteen years it takes before a human is ready

 

"to leave the nest."

  

But in a way, development is similar….a combination of instinct and practice. Just as a human baby, through an innate understanding of movement combined with practice, learn to creep, then crawl, and finally walk and run,

 

baby birds develop their flight muscles by stretching and flapping their developing wings, ineffectually early on, but with increasing coordination.
Some baby birds are eager to leave the nest.

 

Others are lured out onto branches by parents offering food, and in some species, the young are literally kicked out of the nest when the time comes. Then, with concerned adult birds keeping watch, comes the take off. All of the exercise and practice, combined with an innate comprehension of lift and movement, results in the first real flight.

 
Here in Door County, we try to nurture our young people

 

to love the Earth. Parents, teachers, scout leaders, and naturalists all try to expose children to nature with the hope that each will develop a personal land ethic.

 

On Earth Day, high school students, who have been so nurtured and who have an innate appreciation of nature, will make their first flights as environmentalists. We expect their efforts to be impressive and inspiring. And we hope many adults will celebrate Earth Day by attending

 

this free program to support our young people.
Supposedly, actor Leonardo DiCaprio developed a land ethic at a very early age when looking at a reproduction of a [disturbing] 15th century

Hieronymus Bosch

painting "The Garden of Earthly Delights." Whether or not this is true, DiCarprio did collaborate with Fisher Stevens to produce the film,

 

"Before the Flood"

 

and Crossroads will collaborate with the Door County Climate Change Coalition and Celebrate Earth Week, to bring the film to Sturgeon Bay, on Wednesday, April 26, at 6:30.
Crossroads at Big Creek is a donor supported facility made up of the Big Creek, The Cove, and the Ida Bay preserves. The Collins Learning Center, located at 2041 Michigan just east of the Highway 42/57 Roundabout in Sturgeon Bay, is open 2:00-4:00 daily and during scheduled activities. Trails in all preserves are open 24/7 free of charge.
1:00 Earth Day Hike—The Sucker Run"
The odds are good (though not guaranteed) that suckers will be running in Big Creek on Earth Day. During this  one hour hike, participant  will  visit several bridges in hopes of seeing fish. Meet at the Collins Learning Center.
7:00 WILD WORDS: Earth Day
Stories About Our Connection to the Land
Presented by Door County High School Students
Ten students from across the county will share stories- in words and pictures- about their personal connection with the land, from family history to favorite outdoor activities to how they dream about their environment in the future. 
Light refreshments provided by Friends of Crossroads. Free and open to the public. Lecture hall of the Collins Learning Center, Sponsored by the Door county Land Trust, Write On Door county, and Crossroads at Big Creek.
6:30 Door County Beekeepers Program: Keeping Bees Healthy"

 

                                                                                                                                                                                                        
This program will include updates on bee research, management, and mites. Lecture Hall of the Collins Learning Center.
Wednesday, April 26,

 

6:30- Screening of the Film: "Before the Flood"
From Academy Award®-winning filmmaker Fisher Stevens and Academy Award®-winning actor, and environmental activist Leonardo DiCaprio, this documentary presents a riveting account of the dramatic changes now occurring around the world due to climate change. Free and open to the public. Lecture Hall of the Collins Learning Center.
Sponsored by Celebrate Earth Week and the Climate Change Coalition of Door County.