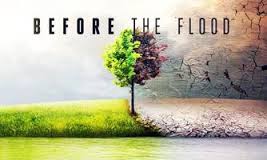 Supposedly, actor Leonardo DiCaprio developed a land ethic at a very early age when looking at a reproduction of a [disturbing] 15th century

Hieronymus Bosch

painting "The Garden of Earthly Delights." Whether or not this is true, DiCarprio did collaborate with Fisher Stevens to produce the film,

 

"Before the Flood"

 

and Crossroads will collaborate with the Door County Climate Change Coalition and Celebrate Earth Week, to bring the film to Sturgeon Bay, on Wednesday, April 26, at 6:30.
Crossroads at Big Creek is a donor supported facility made up of the Big Creek, The Cove, and the Ida Bay preserves. The Collins Learning Center, located at 2041 Michigan just east of the Highway 42/57 Roundabout in Sturgeon Bay, is open 2:00-4:00 daily and during scheduled activities. Trails in all preserves are open 24/7 free of charge.
6:30 Door County Beekeepers Program: Keeping Bees Healthy"

 

                                                                                                                                                                                                        
This program will include updates on bee research, management, and mites. Lecture Hall of the Collins Learning Center.
Wednesday, April 26,

 

6:30- Screening of the Film: "Before the Flood"
From Academy Award®-winning filmmaker Fisher Stevens and Academy Award®-winning actor, and environmental activist Leonardo DiCaprio, this documentary presents a riveting account of the dramatic changes now occurring around the world due to climate change. Free and open to the public. Lecture Hall of the Collins Learning Center.
Sponsored by Celebrate Earth Week and the Climate Change Coalition of Door County.