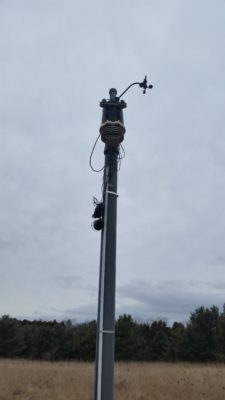 We start most days at Crossroads by checking the weather…..the temperature, humidity, pressure, precipitation, wind…the conditions of our atmosphere.  We are able to check these conditions  because we have a weather station at the Leif Everson Observatory and the  current weather conditions are  posted on our website (www.crossroadsatbigcrek.org)
Data  from the Crossroads Weather Station is interesting to us and useful to the Beach Research Team from UW-Oshkosh which works out of the lab at The Collins Learning Center. Data also is collected by NOAA, the National Oceanic and Atmospheric Administration, the government agency with the mission: "to understand and predict changes in climate, weather oceans, and coast, to share that knowledge and information with others, and to conserve and manage coastal and marine ecosystems and resources."
The data from our weather station are minuscule pieces  of a complex long term climate puzzle from which "NOAA's dedicated scientists use cutting edge research and high-tech instrumentation to provide citizens, planners, emergency managers and other decision makers with reliable information they need when they need it."
So what exactly is the difference between weather and climate? According to NOAA [this is my absolute favorite definition] " Climate Is What You Expect; The Weather Is What You Get."
To municipal engineers, farmers, highway departments and to an environmental preserve that is expanding its parking lot…..knowing long term climate trends and expectations is essential. Actually, to all of us, climate literacy is very important.
The Climate Change Coalition of Door County is sponsoring an  Educator Workshop on Teaching Climate Science at Crossroads on Friday, August  19 from 8:30 am to  3:15 pm  While this program is intended for teachers, naturalists and other educators, it will be informative for the decision makers and general public as well.
This workshop will introduce participants  to the basics of climate science and provide classroom-ready materials and demonstrations usable both as laboratory experiences for students and as outreach activities in the community. Resources will provide factual information including the nature of greenhouse gases, the mechanism of global warming, the history of Earth's temperature swings, and multiple lines of evidence supporting the seriousness of climate change.  The stunning full length film Chasing Ice will be screened.
The presenters are Bruce Smith, former high school teacher and AMS Atmospheric Education Resource Agent, who will address issues such as dealing with climate change skeptics and how the polar vortex demonstrates a changing climate; and Frank Shaw, professor emeritus of chemistry at UW-Milwaukee and Illinois State University, who will discuss chemical aspects of climate change and give demonstrations of climate change chemistry.  For additional information or inquiries contact Bruce Smith (bsmith733@gmail.com) or Frank Shaw (cfshaw@ilstu.edu)
Crossroads Summer Family Programs continue at 10:00 on Monday through Thursday in the Collins Learning Center. Door County residents and visitors of all ages–with or without families –are welcome at these free, one hour presentations, which were made possible with a generous grant from the MMG Foundation.
Crossroads at Big Creek is a donor-supported preserver welcoming learners of all ages to programs in science, history and the environment. The Collins Learning Center, located at 2041 Michigan Street, just east of the roundabout in Sturgeon Bay, is open noon-3:00 daily and during scheduled activities. Trails at the Crossroads Preserve, Big Creek Cove, and the Ida Bay Preserve are free and open to the public.