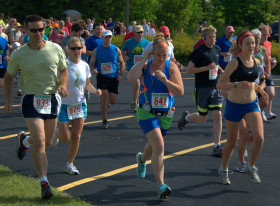 "The Crossroads Trail Run? Not for  me. I'm more of a
tortoise than a hare," the Crossroads visitor explained.  But that is fine…. great, actually.  The Crossroads Trail Run which will start at 8:00 on Saturday,  June 18, also is a trail walk.
A goal  of the event is "to
promote wellness and healthy living, cross-generational recreation, and getting in touch with nature" and all of those objectives can be met at a turtle's pace.
In early summer, we at Crossroads know precisely what a turtle's pace is because the female snapping turtles have been

 

dragging themselves out of Big Creek and galumphing around the preserve in search of a place to lay their leathery eggs. And this week, the little hatchlings are out and about. (Now turtles are multi-generational just like the Trail Run/Walk)
We love snapping turtles here. They are a garbage detail extraordinaire, especially appreciated each spring when Big Creek is filled with dead and dying suckers. Our spawning fish may die, but their scent tends to live on.  But snappers, being both predators and scavengers,  voraciously consume anything they can catch, and quite frankly, dead and dying fish are no challenge. Snappers clean up the creek and its banks in a couple of days.
When I say we love them, I'm not saying that try to catch or make pets of snapping turtles. Snappers are aggressive and their long necks and strong jaws should be avoided, in or out of the water.
Apparently in June, for many well-intentioned people,

 

the temptation to help the female turtles

 

cross a road or parking  lot is strong.  Understand that picking up a snapping turtle is a very, very  bad idea. A snapper bite is nasty, to say the least,

 

and its sharp claws and strong legs can cause serious injuries and/or infections. 
If you want to run or walk or push a stroller (or walker) in the Crossroads Trail Run 2016, visit http://www.crossroadsrun.org/ for details and application materials. If you want to see baby turtles, no promises. But you might see one if you participate in the naturalist-led hike to Big Creek

 

Cove on Friday morning, you might and you certainly will see interesting waterbirds.
Crossroads at Big Creek is a community-supported preserve welcoming learners of all ages to programs in science, history and the environment.  The Collins Learning Center, located at 2041 Michigan,  is open 1:00-3:00 daily and during scheduled events. During the construction, to reach the center, take the highway detour to County T (Alabama Street) cross the highway to Big Creek Road and turn right. Proceed to Lily Bay Road and turn right. Lily Bay Road will merge with Michigan and the Crossroads entrance will be on your left.