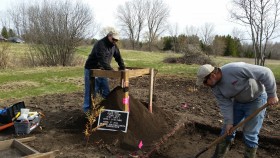 For the past couple weeks, a frequent question  at Crossroads (second only to "how do we find you?)" has been:

 

"Is something happening at The Cove"
The Cove is the body of water created where  Big Creek spreads out to empty into the bay of Sturgeon Bay.

 

Two years ago, Crossroads acquired 9 acres on the east side of The Cove, and yes. Lots of things are going on at The Crossroads Big Creek Cove Preserve.
Fish are spawning, ducks are feeding, osprey and terns are fishing, gazillions of midges are swarming, and funny cone shaped piles of dirt are appearing near the little bridge on Utah Street.
In his 1917 publication

 
History of Sturgeon Bay, Door County
,

 

Hjalmar R. Holand wrote
"Sturgeon Bay seems to have been a center for human intercourse long before white men came here and began to do business. The remains of several Indian villages have been discovered in or near Sturgeon Bay which show that it had a large population hundreds of years ago. One of these villages was located on the property of "The Cove" summer resort about three hundred feet south of the boat landing…..

"The Indians presumably found this a convenient place of habitation because of its proximity to the waters of both Lake Michigan and Green Bay. When the first settlers came they found a well trodden path leading from the head of Sturgeon Bay to Lake Michigan, just north of the present canal, over which the Indians had portaged their canoes for centuries."
The Cove Resort actually was  closer to our Ida Bay Preserve, but it seems that at least some Indians  found the land next to Big Creek a convenient  place. Last fall, during the  Citizen Science Archaeological Project at our Ida Bay Preserve, one of our archaeologists noticed some disturbed soil where we had removed a thicket of

 

invasive honeysuckle. Walking this patch of exposed soil right after a rain,  he found enough artifacts to suggested that we might have another site.
This spring, we hired Midwest Archaeological Consultants to do a formal survey and there is no doubt. We do have a very promising site. It is registered with the State and we will include this new area in our 2016 Fall Achaeology Dig (probably late September and early October).
When we acquired The Cove, it had low water and a dock. The water rose significantly that first winter so the decking floated off the dock.

 

That decking

 

(which turned out to be redwood) has now been repurposed. Our
Land and Facilities Manager, Rich Propsom, turned the redwood planking into a stunning piece of furniture for the lower level learning space in the Collins Learning Center.
But the dock needed to be replaced.

 

Because one of our instructional topics is Door County History, we briefly toyed with the idea of recreating a Door County crib dock.

 

A crib was a square structure usually made of cedar logs, set in the water with the center filled with large stones.

  

A series of cribs extended out into the lake or bay. Planks were laid from crib to crib to form a dock or pier.
That crib  idea was dismissed because of extreme fluctuations in the water level, but more importantly, because this type of dock would alter the wetland wildlife habitat. And protecting the wetland and spawning grounds was our main objective when we acquired the land.
Instead we opted for a floating dock with several observation areas. Construction on these has begun and should  be complete before Memorial

 

Day. Utah Street is open and you can park in the grass off  20th Place. Come see our progress.
Or you can join in a naturalist led hike on Saturday, May 21 at 10:30, participants will enjoy the spring flowers of the Crossroads Preserve and on Sunday, May 22 at 1:00, a one hour hike will be offered at the Ida Bay Preserve.

 

Or folks are always welcome to hike at any of our three preserves.
Crossroads at Big Creek is a community-supported preserve welcoming learners of all ages to programs in science, history and the environment.  The Collins Learning Center, located at 2041 Michigan,  is open 2:00-4:30 daily and during scheduled events. During the construction, to reach the center, take the highway detour to County T (Alabama Street) cross the highway to Big Creek Road and turn right. Proceed to Lily Bay Road and turn right. Lily Bay Road will merge with Michigan and the Crossroads entrance will be on your left.
To reach the Astronomy Campus and Ida Bay Preserve, Utah Street currently crosses  the highway, or you can follow Memorial Drive under the bridge, and turn on 18th Place to reach Utah Street. The Astronomy Campus is at the Cove Road intersection, 2200 Utah.  To reach the Ida Bay Preserve, follow Cove Road. (or from the north, follow Buffalo Ridge Trail)
Saturday,May 21                                                                                                                                                                                                                                 10:30 Hike: In Search of Spring Wildflowers   

                                             
The Crossroads Preserve always interesting, but in spring, it particularly lovely as tiny flowers dapple the trailsides.. Meet at the Collins Learning Center. About an hour. Free and open to the public.
Sunday, May 22
1:00 Hike: IdaBay
 Preserve                                                                                                                                                                                                                                                                              
This hike will explore the beech/hemlock forest and deciduous edge areas.  Meet at the Zenith Street Entrance About an hour. Free and open to the public.