Crossroads Access: At this time, Michigan Street is open to access the Collins Learning Center. Utah Street is open to reach the Astronomy Campus and Big Creek Cove.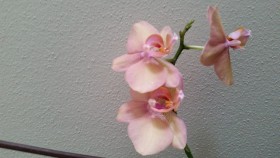 The Door County Master Gardeners are pleased to welcome Richard Baehnman of the North Eastern Wisconsin Orchid Society. Richard is a long-time grower and collector of orchids. He will offer information on how to successfully grow beautiful orchids in our northern climate. He will also share his experiences traveling the world in search of orchids growing in the wild. You will leave this program with the knowledge and confidence needed to successfully grow orchids in your home.
Richard has been growing orchids for about 25 years. A past President of the North Eastern Wisconsin Orchid Society he currently serves as their Vice President. Richard and his wife Nancy work as a team when it comes to orchids. He grows the orchids and she does the picture taking, and planning the trips. They have been on many trips looking for orchids, many of them in conjunction with the World Orchid conferences held every three years. They have attended conferences in Kuala Lumpur, Malaysia; Dijon, France; Miami, Florida; Singapore, and Johannesburg, South Africa. They have also done some orchid hunting in Ireland, Costa Rica, Ecuador, the Dominican Republic, the Bruce Peninsula in Canada, and numerous states in the USA. They are also members in the North American Native Orchid Conference.
The programs is free and open to the public.