Crossroads Access: At this time, Michigan Street is open to access the Collins Learning Center. Utah Street is open to reach the Astronomy Campus and Big Creek Cove.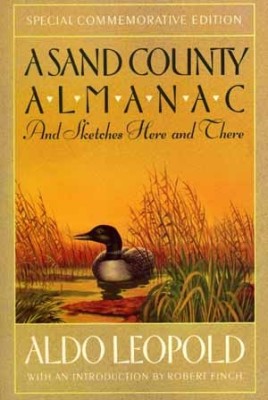 During the first weekend of March each year, people all over the state of Wisconsin remember Aldo Leopold by

 

taking break from their busy lives to listen to

 

inspiring words of  his essays.   This year, Write On Door County, in collaboration with Crossroads at Big Creek, The Door County Land Trust, The Clearing and The Ridges , will

 

bring this tradition to Door County with A Progressive Marathon Reading of A Sand County Almanac.
At four locations, The Clearing, The Ridges,

  

The Bertchinger Center), and

 

Crossroads,  area residents and visitors will gather to listen and reflect  as some of Door County's notable personalities read from Leopold's work. 
Tim Southwick Johnson, a songwriter and musician from the Lake Geneva area who had put out a CD ("Sand County Songs) will perform at each gathering.
The Aldo Leopold Foundation website describes the history Aldo Leopold Weekend: "
On March 4, 2000, the citizens of Lodi, WI congregated to read A Sand County Almanac aloud, cover to cover. The Friends of Scenic Lodi Valley (event organizers) dubbed the gathering "Lodi Reads Leopold." Reading started at noon and ended at 10 that night. The session spanned two locations, involved 35 readers, and was so inspiring that they decided it should be an annual experience.
"During the 4th annual Lodi Reads Leopold event, George Meyer, former Secretary of the Wisconsin Department of Natural Resources and a "celebrity reader," wondered aloud why every community in the state wasn't reading Leopold that weekend. State Legislator Mark Miller shouted from the audience, "I'll introduce that legislation." That spark caught on, burning bright with bi-partisan support to recognize Wisconsin's most noted conservationist. One year later, in March of 2004, Governor James Doyle signed legislation designating the first weekend in March Aldo Leopold Weekend across Wisconsin."
The final Aldo Leopold Weekend Event in Door County  will be held in the Lecture Hall of the Collins Learning Center from 2:00-4:00 on Sunday, March 6. Guest readers include: Bret Bicoy of the Door County Community Foundations, Holly Feldman of Northern Sky Theater, Laurel Hauser of the Door County Land Trust, Coggin Heeringa of Crossroads, Amy Kohnle of the United Way, and Alan Kopiske of Third Avenue Playhouse. Music and refreshments will be offered at this free event.
So who was Aldo Leopold and why do we celebrate this Wisconsin writer?
"Considered by many as the father of wildlife management and of the United States' wilderness system, Aldo Leopold was a conservationist, forester, philosopher, educator, writer, and outdoor enthusiast," according to the Aldo Leopold Foundation.
"
A prolific writer
,
authoring articles for professional journals and popular magazines, Leopold conceived of a book geared for general audiences examining humanity's relationship to the natural world. Unfortunately, just one week after receiving word that his manuscript would be published, Leopold experienced a heart attack and died on April 21, 1948 while fighting a neighbor's grass fire.
" A little more than a year after his death Leopold's collection of essays
A Sand County Almanac
was published. With over two million copies sold, it is one of the most respected books about the environment ever published, and Leopold has come to be regarded by many as the most influential conservation thinker of the twentieth century".
When I was still in school, reading this little book inspired me to dedicate my life to "A Land Ethic
"

 

a philosophy which

 

extends the boundaries of the community to include soils, waters, plants, and animals, or collectively: the land."

–
 

And Leopold's philosophies still guide many of the management decisions made at Crossroads.
Another influential teacher died last fall. Almost every Master Gardener in Door County has been taught and influenced by the late Rod Bohn, a true Master Gardener. Rod's passion was orchids and he had an extensive collection of these exquisite flowers.
The odd, but appropriate, decision was made to hold a celebration of Rod's life in a greenhouse. So last October, Master Gardeners of Door County gathered at Maas Floral to share memories. The Bohn

 

family encouraged Rod's friends to adopt one or two of his orchid plants so now, due to this unusual legacy, Rod's orchids now are scattered throughout the peninsula. And

 

most of the

 

Master Gardeners are eager for information on how best to care for the different types of these plants .
Consequently, by popular demand,  The Master Gardener Lecture  at 7:00 on Tuesday, March 8 will be "
Orchids" 
The guest lecturer is
Richard Baehnman, NE Wisconsin Orchid Society. He will share his experiences with all of those who are learning to care for orchids. The program is free and open to the public.
Crossroads at Big Creek is a donor-support preserve welcoming learners of all ages to programs in science, history and the environment. The Collins Learning Center, located at 2041 Michigan Street in Sturgeon Bay, is open 2:00-4:30 daily and during scheduled activities.