TRAIL CONDITIONS:  Groomed Thursday morning.  Trails good (for early in the season) but with some icy spots. The days are getting longer, though it's far from apparent here at Crossroads at Big Creek.  These long nights are probably behind the tradition of  putting  up special lights for the holidays.
Since ancient times….long before the New Year was celebrated in winter, festivals were held this time of year.  Lamps were lit and special logs burned symbolizing the rekindling of the Sun. And, as the ancients perceived, from now on, days will begin to lengthen. We humans have been aware of this phenomenon for so many centuries that it is amazing that its biological significance did not become apparent until the  1920s.
Plants and animals.and, if some researchers are to be believed., even humans. take many of their hormonal, and consequently, behavioral cues from photoperiod. Photoperiod is defined as "the hours in a 24 hour period that a plant or animals is exposed to light.."
How do animals know to molt, to migrate, to hibernate, to breed? Yes, photoperiod. Hormonal changes are triggered by the ratio of daylight to darkness.
Plants are genetically programed to grow, to bloom, to lose their leaves… and most of these processes apparently are triggered by photoperiod.   Until  spring,  when  sunlight penetrates the soil—[and amazingly, light does penetrate soil]—the appropriate number of hours, many seeds cannot germinate.
While it is simple to argue that trees drop their leaves due to impending winter, birds migrate when spring comes or that flowers bloom when insect pollinators are most active, and scientists did argue these points for years, must be noted that most of the actions are initiated long before the event for which they prepare. Light and dark…photoperiod.
The end of December has always been a time for celebration and we hope your New Year's Eve is happy and safe. And we suggest, as we enter the New Year, that you continue to celebrate sunlight. It's good for you. At least many researchers think so.  They believe the body produces a chemical (melatonin) which induces sleep. Bright sunlight slows down the production of this hormone. So in summertime, the body makes very little sleep hormone. In the winter, it produces a great deal.
For our early ancestors, the phenomenon  had survival value. In winter, people gained weight, conserved energy, and crawled into their caves to wait for spring.. If the theory is true, it explains why, in winter, people slow down and gain weight. Unfortunately, in modern societies, most of us would prefer to be slender and energetic. So go take a walk….in the morning.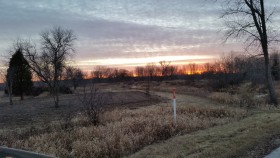 If sunlight energizes us, if being in out  nature improves our mental health, we should start the New Year by starting each new day in natural light. See you on the trails.
This week, you can join the naturalist on the trails  for a New Year's Eve Hike at 3:45 at the Big Creek Cove or a New Year's Day Hike  at 2:00 at our Ida Bay Preserve.
    Crossroads is a donor-supported preserve welcoming learner of all ages to programs in science, history and the environment. The Collins Learning Center will be closed  New Years Day, but otherwise is open 2:00-4:30 daily.
Wednesday, December 30
2:00 Family Program: Meet the Beaver
Learn about an animal that spends this time of year lounging around with the family and eating. Films and activities. Fun for the whole family.  Lecture hall of the Collins Learning Center. Free and open to the public.
Thursday, December 31
3:45Sunset on the Year Hike
A Crossroads tradition, this end of year hike is designed to watch the sun set over Big Creek Cove. We will hike whether or not the sun is shining. Meet at the Big Creek  Bridge on Utah Street. Free and open to the public.
Friday, January 1
2:00 New Year's Day Hike at Ida Bay
Start your 2016 bird list or just join in the fellowship of hiking with friends at the Ida Bay Preserve. Meet at the Zenith Street Entrance.  Free and open to the public.