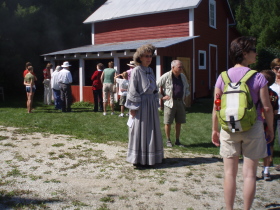 At Crossroads, we think a lot about history………climate history, forest history, local history.  One of our most import historical events, ecologically speaking, occurred when the extreme weather conditions of October of 1871 led to a forest fire which, according to estimates [communications being what they were-we will never know for sure] destroyed 1.2 million acres of land, seventeen towns,  between 1,200 and 2,400 lives and more than a hundred million of dollars worth of property.
.
On Sunday, August 23 at 2:00, thanks to a program sponsored by the Door County Historical Society, Crossroads visitors will experience an eye witness account (almost) as Barb Chisholm relates the horrific events of that day, as seen through the eyes of a Belgian woman.
Barb has spent years studying the Peshigo Fire, reading accounts of the fire itself but more importantly, the stories of the people (some of whom were her ancestors) who survived the fire storm. And the term "fire storm" apparently is apt because apparently the fire was so hot that it created its own weather, and according to historical accounts, became a tornado of fire.
Like most of the Midwest that year, Door County was tinder dry. Consequently, the exact same day as the famous Chicago Fire, tragedy struck the southern part of the Door Peninsula. In those days, there were no early warning systems or evacuation plans.
Barb, dressed in period costume,  will share harrowing stories that attest to the adversities faced by early settlers, but also to the resiliency of the Belgian community. The program will be held in the lecture hall of the Collins Learning Center.
This is the final week for Family Nature Programs this summer. The classes are held at 10:00 Monday-Thursday in the Collins Learning Center. We also bid farewell to our summer intern, Joel Kaminski; our summer educator, Joan Wilkie and to the Beach researchers from the University of Wisconsin-Oshkosh. Alas, summer is almost over.
Crossroads at Big Creek is a donor-supported historical and environmental learning preserve located at 2041 Michigan Street in Sturgeon Bay. Summer hours for the Collins Learning Center are 1:30-3:30 and during scheduled events.  For more information, see www.crossroadsatbigcreek.org or call 920-746-5895.