Crossroads has created  the new position of Property/Facility Manager. For job description and application information, see the CONTACT US section of this website.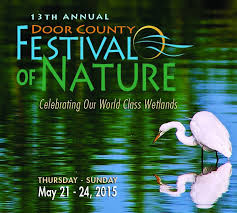 Each spring since 2002, Door County conservation organizations. along with the Wisconsin Department of Natural Resources, have joined together to offer The Door County Festival of Nature. This year's Festival runs from May 21-24.Crossroads at Big Creek is proud to join  with  the sponsoring organization, The Ridges Sanctuary, and our partners in conservation,  The Door County Land Trust and  The Nature Conservancy in this annual event. The mission of  the event is "to cooperatively celebrate and promote the protection of Door County's natural landscapes and all its components. This is done through a variety of indoor and outdoor educational sessions on wildflowers, birds and the important land and resource conservation efforts taking place in Door County."
We at Crossroads are especially excited about this year's Festival because the theme is "Celebrating Our  World Class Wetlands" in recognition of the fact that  a number of Door County wetland sites have been designated as Wetlands of International Importance.  And  because last December, Crossroads added a wetland to the Crossroads preserve. (Ours isn't of international importance, but it is very important to ourBig  Creek ecosystem.) Festival field trips will be visiting many of these wetlands, including our own Big Creek and Big Creek Cove. (To register for this field trip, or the field trip to our Ida Bay Preserve, or any of the fabulous sites along the whole length of the Door Peninsula, visit
www.RidgesSanctuary.org
)
When we  host the Festival field trip to The Big Creek Cove,  what will show people? We don't know. This is our first year of owning this land, and every visit is a revelation. Earlier this  spring, we marveled at the number of fish that used The Cove to congregate before the spring spawn and it seemed that every day, different waterbirds could be observed from the little bridge over Utah Street. We had no idea when we acquired the property that it  included a lovely little ephemeral pond, a nest site for ducks and a breeding spot for frogs.
We know a number of mammals including deer, fox, and coyote live in the wetland or else use it as a corridor to travel between the bay and the wooded areas of Crossroads. We also expect to see a changing  array of native wetland flowers throughout the summer.
It will be an exciting season as we explore and inventory  this lovely wetland. And we feel especially proud that we were able to preserve  this  nine acre property,  knowing that the wetland  is helping protect the water quality of Big Creek and the Bay of Sturgeon Bay.
Water quality is the theme of the next Door County Environmental Council presentation, "Manure-Nutrient or
Pollutant
?" scheduled for Wednesday, May 20 at 7:00.  Lynn and Nancy Utesch will lead the this free public discussion and share the experiences they have had with ground water pollution in  Kewanee County. The program will be in the lecture hall of the Collins Learning Center and  is free and open to the public.
Last winter, Crossroads (with a grant from Ministry Door County) created a new trail through a heavily wooded conifer forest. Judging from the emerging foliage, it looks like we may (no promises)  have some lovely wildflowers by Sunday, May 24. Join the naturalist at 1:00 for a one hour hike searching for wildflowers along the new trails at Crossroads.
Crossroads at Big Creek is a donor supported preserve welcoming learners of all ages for programs in science, history and the environment. The Collins Learning Center (located at 2041 Michigan in Sturgeon Bay) is open 2:00-4:30 and during scheduled events. The Center  will be closed to the public for Festival of Nature Events on May 24 and 25  and on Memorial Day,  but trails are always open.