Trails:  Fair.  Light snow over windblown trails.  The ski loops near the learning center were groomed Monday, but not tracked.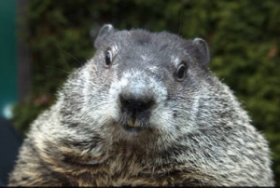 On Groundhog's Day, the Door County Silent Sports Alliance joins with Crossroads to offer a potluck dinner followed by an evening of winter recreation  in the moonlight.  And if the almost full moon is not hidden by clouds, participants may actually see their shadows in our  snowy (if we have snow)  preserve. But otherwise, celebrating Groundhog's Day  on  the evening of February 2 is ridiculous. But, then Groundhog's Day is ridiculous. Groundhogs don't come out of their dens in winter, and if they did, they would come out during the day and not  the evening.
The Groundhog's Day event begins with a 6:00 Potluck dinner in the Collins Learning Center. Participants are to bring a dish to pass and beverage of choice. Then, depending on snow depth,  the activities will include skiing and snowshoing, fat biking  or else moonlight hiking. Members of Friends of Crossroads and the Silent Sports will (if snow is sufficient) loan snowshoes to participants to explore the trail by moonlight.
This peculiar "holiday" actually goes back to the religious observance of Candlemas, which was celebrated by 40 days after Christmas. Somehow, European Christians came to
believe
that if a hedgehog or maybe it was European badger (which is NOTHING like Wisconsin Badger)  saw its shadow on February 2 , weather would improve.
It's difficult to understand the confusion. Hedgehogs ( spiny European mammals distantly related to shrews) are nothing like groundhogs. But groundhogs are exactly the same as woodchucks.   That name woodchuck is a corruption of "wuchak" –the  Algonquian name for groundhogs. Woodchucks are just big squirrels.
We think of squirrels spending the warm season gathering food and storing it. That's what woodchucks do. They gather food all summer,  but they don't bury it. They store it as body fat which then sustains them through their four to five month hibernations (which have several months left to go.)
So what do woodchucks chuck? They favor a diet of  leaves and flowers. They like clover, dandelions, and buttercups, but when available, they really like garden produce–beans, peas, lettuce, carrot tops…even corn.  They seem to be equal-opportunity feeders—noshing on traditional and organic gardens alike.
But organic garden to offer unique proplems. And that is why on Tuesday, February 3, the Master Gardeners of Door county will present the program: "Organics in the Real World".
Nancy Santoriello of Santoriello Landscape Maintenance will present a look at the world of organics, the benefits, the costs, and the unique problems. The program is free and open to the public.
Also at  7:00 February 3 at the Steonecipher Astronomy Center, the Door Peninusula Astronomical Society will hold its February General Meeting featuring the  Silcon Valley Lecture: Saturn's Moon Titan: A World of Lakes, Rivers, and Possibly Life" Visitors are always welcome. Please use the Astronomy Campus Entrance  2200 Utah to reach the Stonecipher Astronomy Center.
Crossroads at Big Creek is a donor-supported preserve offering programs for learners of all ages in science, history and the environment. The Collins Learning Center,
located at 2041 Michigan, is open daily 2:00-4:30 and during scheduled events.  Trails are always open, but designated ski trails are for skiing only. Hikers, dog walker, bikers, and those on snow shoes are asked to use the hiking trails.