We got a dusting of snow Monday night, but not nearly enough to groom. TRAILS POOR for skiing, but very pretty for hiking.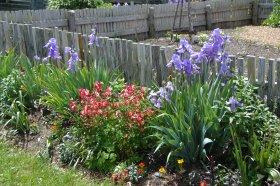 Our pioneer foremothers were on to something. In creating the Heritage Garden at Crossroads many years ago, volunteers from the Sturgeon Bay Home and Garden Club tried to replicate the gardens of their Door County grandmothers…vegetable gardens bordered by colorful, fragrant flowers.
Did our early European settlers  long for beauty? Probably. But these women also held the belief that their vegetables grew better in gardens with  flowers. They were so correct.  Flowers attract pollinators. We now know that a number of garden plants, fruits and berries  are dependent on pollinators and even self-pollinating crops seem to have better yields when pollinators are present.
So each year, volunteers from Master Gardeners have made a special effort to attract pollinators to the Crossroads Heritage Garden by planting a variety of species of different heights with blossoms of  all shapes and sizes in blocks of color, and  trying to ensure that something is in bloom at any given time throughout the growing season. 
For thousands of years before the colonists brought hives of honey bees from Europe, native bees were pollinating native plants. They still do. In Wisconsin, there are as many as 400 species of native bees and bumblebees. They don't  live in hives and they don't make honey, but they do pollinate plants…probably more efficiently than honey bees. Native bees are very beneficial to many garden and agricultural crops.
On Tuesday, January 20 at 7:00  Jeremy Hemberger of the University of Wisconsin Madison's Gratton Laboratory will present a Master Gardener Lecture titled "Native Pollinators-Look beyond the Honey Bee." The talk will feature some basic biology of pollinators, a discussion of factors influencing their decline, and a review of some current research going on at the UW (including some of his own work at the Gratton Lab. )  He talk a bit about honey bees, but the focus of the lecture will be on native pollinators. The program is free and open to the public.
Our nature outing this week will be to Crossroads' Ida Bay Preserve at 10:00 on Friday, January 16. Participants will meet at the Collins Learning Center at Crossroads  and if snow is deep, check out snowshoes and poles. Then the group  will travel by car to the preserve. The outing is free and open to the public.
Our Ski-For-Free program is underway, at least when conditions warrant, on Thursdays, Saturdays, and Sundays from 1:00 to 3:30. We loan snowshoes and skis in all sizes free of charge in order to help people get in touch with nature in the winter.
Crossroads at Big Creek is a donor supported  preserve, welcoming learners of all ages to programs in science, history and then environment. The Collins Learning Center, located at 2041 Michigan in Sturgeon Bay, is open daily 2:00-4:30 and during scheduled activities. Trails are free and open to the public.