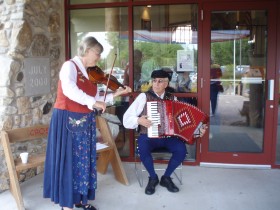 On Sunday, September 14,  beginning at 1:30, the Collins Learning Center and the Heritage Village at Big Creek will be filled with all things Norwegian (except, thankfully,  lutefisk) when members of the The Sons of Norway Lodge help the Door County Historical Society celebrate Norwegian Heritage Day at Crossroads.   Musicians Nelson and Christinge Whyatt will fill the Village with folk tunes.
 Demonstrrations will include skills such as weaving, tatting, hardanger needlework, knitting, and woodwork. Decorative folk art including rosemaling and woodworking will be on display and visitors will be invited to taste a number of traditional Norwegian pastries.
I'm really hoping the fabulous cooks in the group make my favorite Scandinavian cookies….light and crispy delicacies which my grandmother called "rosettes," and I think that may be the traditional name. It obviously takes some amount of skill and practice to make rosettes without breaking them.
Nature is making rosettes this time of year, but in botany, rosettes are not brittle lighter-than-air sweets. They are tough enough to make it through a Wisconsin winter.
Most people know that in plants, annuals grow one year and perennials grow year after year. But out in the fields, a group of plants known as winter annuals are taking root.
Winter annual grow with leaves radiating outwards from a short stem at soil level. Think dandelion. Or mullein. Mullein is that stalk of yellow flowers which shoots up to seven or eight feet in fields and waste areas.
The first year, when the seeds germinate, a basal rosette of pale green leaves forms. The leaves are soft and velvety, and in many part of the country, the low-growing plant is called Rabbit Ears. Some campers have called it Nature's Toilet Paper—but using it for that purpose is a mistake. The soft hairs are a skin irritant. But the little interlocking fibers of a mullein rosette make great insulation.
Pioneers stuffed them in their boots for warmth and many species of insects spend the winter deep in the centers of the rosettes, curled up and cozy.
But the real purpose of a rosette is to collect the sun's energy. Through photosynthesis, the rosette manufactures  food which is stored in the long taproot.  Often, it requires several years for the rosette to make and store enough food to grow a flowerstalk.
Another function of the rosette form is to shade the soil, which is important because mullein tends to grow in hostile places, usually dry and disturbed areas. The tiny hairs are no doubt adaptations to prevent moisture loss.
The rosette form also reduces competition. Mullein, dandelions, thistles, plantain….they are the bullies of the field. Spreading out… taking up space…. shading the soil,  rosettes effectively prevent grass and other flowers from germinating.
Rosettes are tough. They can withstand the trampling of animals, they can survive just under the blades of a mower, and winter annuals start growing as soon as the snow melts.
But they don't taste as good as Norwegian rosettes!
The prairie at Crossroads  and the upland areas of our Ida Bay property are great places to observe rosettes this time of year. Join the naturalist for  one hour afternoon rambles at 4:30  Monday, Tuesday, and Wednesday, September 15, 16, and 17. . Meet in the parking lot of the Collins Learning Center.
Saturday, September13 at 2:00, a Family Program: "Fossils of Door County" will be offered in the Collins Learning Center. The hands-on program will be followed by an optional fossil collecting visit to Big Creek.