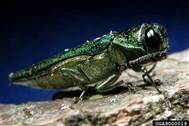 Several years ago, Crossroads hosted a program on Emerald Ash Borer.  The speakers said: "They're coming."
During a more recent program, we were told, "It's just a matter of time."
This Tuesday, June 24, Crossroads will host a  another program. The message will be: "They're here."
This tiny green insect may have a large impact on Door County. Last week, the presence of emerald ash borer in Door County was confirmed.  Representatives  from DATCP, DNR, UW-Extension, and the USDA Forest Service Animal and Plant Health Inspection Service will present an Informational Meeting on Emerald Ash Borer.
Topics to be covered are beetle life cycle, symptoms of infestation, site evaluations and update of ground zero, ash tree management strategies, and the Door County quarantine. Speakers will include  Linda Williams, Forest Health Specialist, Department of Natural Resources:  Tracy Salisbury – Regional Urban Forestry Coordinator, Department of Natural Resources,  Chris Plzak and Bill Ruff – Private Foresters, Department of Natural Resources, Brooke Sanneh – Nursery Inspector, Department of Agriculture Trade and Consumer Protection,  Bill Schuster – Door County Conservationist, and Dean Volenberg – Door County Agricultural Educator, University of Wisconsin Extension. Questions will be welcome at this free public presentation.
Summer programs are underway at both the Collins Learning Center and the Door County Historical Society's Heritage Village.   Then, during the week, free family nature programs will be offered at the Collins Learning Center Monday through Thursdays and the Historical Society will offer programs on Tuesday and Wednesday afternoons at 1:30 on Tuesday and Wednesday and Blacksmith Demonstrations on Thursdays.