Water Quality/Beach Research
Since 2004, Crossroads at Big Creek has provided laboratory space in the Collins Learning Center to the researchers from the University of Wisconsin-Oshkosh Microbiology Department who, in collaboration with Door County Health Department and the Door County Soil and Water Conservation Department, have been working (day and sometimes night) throughout the summers to monitor the quality of Door County waters at 31 beaches.
In addition to protecting the health of swimmers by posting beaches, the project included the collection and analysis of beach water data to determine sources contributing pollution to Door County beaches, and establishing a baseline of beach water quality by:
developing the general trend data to identify main sources of pollution, 
providing insight to the pollution sources for each beach, and
collecting data that will be useful for producing a predictive multivariate model of contaminant occurrences.
In the summer of 2012, the researchers are evaluating the use of a beach groomer to determine whether UV light from the sun reduces the presence of microbes in sand.
Because surface water quality directly affects residents and visitors, public education and citizen action were important components of this project. Citizen volunteers from several local environmental organizations have been bringing water samples to the lab at The Crossroads this summer.

Interactive Archaeology At Ida Bay Preserve
We invite you to be involved in an archaeological dig! We knew, long before The Nature Conservancy gave the property to Crossroads, that the Ida Bay Preserve was extraordinary –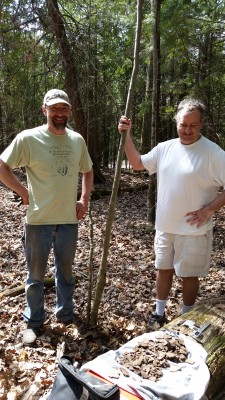 ancient hemlock and beech forests, mature hardwood and several mixed-aged examples of second growth forest. We suspected that this land, located at the end of the original bay of Sturgeon Bay, might have been the site of an Indian settlement.
Buoyed by the results of the preliminary surveys we conducted on the original Crossroads property (which involved the hands-on participation of about 700 schoolchildren) we wrote grant proposals to do a preliminary survey of the Ida Bay property and were funded for the Phase I work with grants from the Raibrook and Maihaugen Foundations.
Professionals from Midwest Archaeological Consultants focused on the wooded Zenith Street end of the property. They gridded and shovel-tested the parcel at 10 meter intervals. At this point, they have found arrowheads, pottery shards, and flakes and chips in significant quantities to justify systematic digs: one-by-two meter and two-by-two meter test units to retrieve more data and establish historical horizons.During October, we will dig in two or three test units. While the supervision and identification will be carried out by the professionals, we intend to offer area schools the opportunity to participate, we are offering a teacher education class through UW-GB (which is open to non-credit participants), and we also would like to offer hands-on experiences to adult volunteers during the final week of the month.
Thank you for making this Historical Research possible
Paul and Fran Burton
Dennis and Bonnie Connolly
The Clifford and Clara Herlache Fund
John and Nell Herlache
Historical Preservation Fund of the Door County Community Foundation
Mike and Barb Madden
Maihaugen Foundation
Midwest Archaeological Consultants
Raibrook Foundation