Weddings and Receptions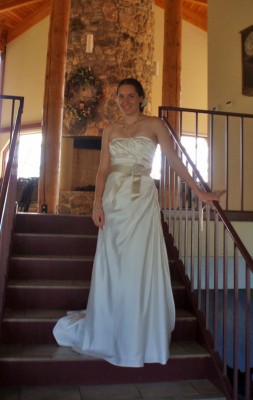 The John & Helen Collins Learning Center can be reserved for weddings, receptions or both.
Capacity:
The lecture hall has 82 cushioned seats and we can add 25 folding chairs.
Couples sometimes opt to say their vows in front of the fireplace. Seating in this area is limited to about 40. The center can accommodate 100-150 for cake/coffee or heavy hors d'oeuvres. We have tables, chairs and space to accommodate about 60 people for a sit-down dinner. No dance floor.Crossroads does not provide decorations or catering  services.
Fees for Collins Learning Center:
Weddings (Door County residents ) $500
Weddings (non-residents) $1,000
Receptions only $200
Pre-event (set-up or rehearsal) $50/hr.
Any use before 9:00AM or after 8 PM $50/hr.
Proceeds from weddings and events are used to further educational programs at Crossroads at Big Creek.
Parties, Receptions and Celebrations
House too small for the family reunion, graduation party, shower, or office party? Renting the Collins Learning Center makes it easy for you, while you contribute to our educational programs.
Social events, retirement parties birthday parties graduation parties $200
Commercial meetings $200
Meetings at the Collins Learning Center
Educational Programs relating to science history or the environment $40.
Meetings or Conferences $200
Additional  Fees:
AV equipment $50
Food served $50
Any use before 9:00 AM or after 8 PM $50/hr.
Lower Level Learning Space
The Lower Level Learning Space is available for meetings and retreats to any Door County NonProfit (501- c-3)  organization if the meeting will benefit the community.
The John and Helen Learning Center is located at 2041 Michigan, just east of Highway 42/57 in Sturgeon Bay, Wisconsin. Questions or to make reservations Call 920.746.5895
For information or to make reservations
Call: 920.746.5895
Write: Crossroads, Box 608, Sturgeon Bay, WI 54235
Email: info@crossroadsatbigcreek.org
Telephone: 920-746-5895
Payments: Cash or checks made out to: Crossroads at Big Creek, Inc.