My Year of Discovery…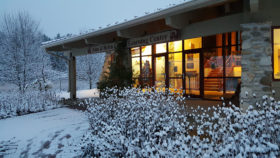 With the end of every calendar year, the hope of a better New Year comes along with resolutions and challenges we all intend to uphold. Being a conformist (what other choice do we have?) I have resolved to make 2017 My Year of Discovery at Crossroads.
I plan to discover and enjoy:
the developing trail system at the Ida Bay Preserve and all the bits of history that accompany that part of Crossroads.
the new trails that Rich Propsom, our Land and Facilities Manager, has developed on our Big Creek Preserve … especially the new multi-use sections.
the Ski For Free Program (pray for snow) that the Friends of Crossroads have worked diligently to develop. Also, the new ski equipment added to the program using the proceeds from The Crossroads Trail Run.
the new floating dock and observation deck at The Cove Preserve. (Just follow Big Creek from Utah Street to the bay to discover that treasure.)
the ever-developing Maki Arboretum. (Watch for new plantings and a structure this coming spring. Better yet, you can enjoy the experience of helping plant it by contacting me or Jim Maki.)
the changing landscape around the Collins Learning Center with bird feeding stations, native plantings, outdoor seating and access ways.
the new parking spaces which should be complete by early summer throughout the three preserves.
Finally, I realize that everyone can share these discoveries at Crossroads only because of the generous gifts of time and funds that all of you have made this year, and hopefully will continue to make in years to come.
Dick Weidman,
President, Board of Directors at Crossroads
---
For the Birds & Butterflies!
…an Assessible Bird & Butterfly Garden at the Learning Center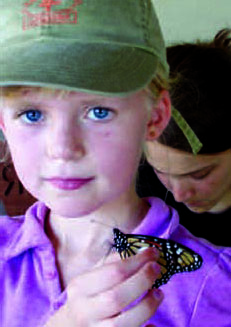 The new landscaping around the Collins Learning Center is for the birds … and also for the butterflies, native wildflowers, wetland plants and most importantly, for people who want to get in touch with nature.
With its three preserves, Crossroads offers a variety of habitats and destinations, now connected by an expanded trail system. Alas, many people can-not reach our wetlands and shoreline, forests, and other birding habitats due to mobility issues, lack of stamina, young children or limited time. These people are not able to experience nature at close range.
So, with funding from Cellcom Green Gifts and private donations, we are creating a Fully Accessible Bird and Butterfly Garden.
This involves creating walkways and patio areas which meet ADA guidelines. These level areas have the added ad-vantage of increasing the safety of our restroom and lecture hall entrances.
We are in the process of establishing several elaborate bird feeding stations, sited in such a way that they are visible from the Learning Center Entry Level or the Lecture Hall windows in winter. Benches (and perhaps a sitting wall) will line the patios so in good weather, learners of all ages can enjoy birds at arm's length.
Already, we have planted native wildflowers selected to provide nectar in summer and/or seeds and berries in winter to attract birds, butterflies, and other pollinators. (Many of the plants were rescued as a part of our parking lot expansion.)
We are creating water features (a dry stream, a pebble pond, and a bog-like retention area) all of which will aid in storm water mitigation, either channeling or retaining water which otherwise would end up on our parking lot.
For those who once loved the outdoors, but now are unable to explore, this garden will be a welcome diversion … and a place where families can share nature.
We understand that creating bird and butterfly gardens is tokenism, but showcasing how individuals can make their yards and homes more insect and bird-friendly, we may make an impact on the Door Peninsula and, because of our tourist visitors, beyond.
Expand article
---
Autumn Giving
*Indicates a special gift designated for the Parking Lot Project.
$25,000 plus
Anonymous*
Portland Trust II
$10,000 – $24,999
Don and Coggin Heeringa
$5,000 – 9,999
Cellcom Green Gifts
$2,500 to $4,999
Door County Medical Center
David and Lori Nicholas
$1,000 to $2,499
Paul and Fran Burton*
Callsen Fund of the Door County Community Foundation*
Jill and Peg Carstens and Jane Jorstad
Door County Community Foundation Friends of Crossroads
Master Gardners of Door County
Dan and Bonnie Balch
$500 to $999
Paul and Fran Burton*
Callsen Fund of the Door County Community Foundation*
Jill and Peg Carstens and Jane Jorstad
Door County Community Foundation
Friends of Crossroads
Master Gardners of Door County
Dan and Bonnie Balch
Nancy Synder
$250 to $449
Lucy Kile
David and Ann Harsh
Ivy Nelson
Norm and Mabel Watkins
Mark and Lucia Voreis
$100 to $249
Roger and Sandy Anderson
Nanette Anschutz
Gerry and Jane Berg
Randy and Jane Bumgardner
Thad Birmingham of Birmingham Builders
Door County Environmental Council
Egg Harbor Business Assn.
Cleida Galligan
Ronn and Mary Gilbert
Dave Jordal and Linda Hinkston
Howard H. Hintze
Jeanquart Associates
Paul and Kanani King
Robert and Janice King
Ron and Judy Lokken
Joy Maccaux
Nancy Mattke
Curt and Evelyn Mingle
Camilla Nielsen
Bill and Barb Perloff
Greg Ristow
Kathleen Rowe
William and Mary Jo Schaars
Richard and Dorothy Shappell
Dwight and Pam Zeller
$50 – 99
Marlene Allen
Carol Bockhop
Gregory and Joan Bennett
Philip and Sandra Fransen
Jane Guthrie
Christy and Jeff Hemesath
Doug and Barb Henderson*
Daniel Herrbold
Carol Hobson
Dale and Joan Jeanquart
Karen Johnson
Andrew and Clare Lubar
Jim and Valerie Maki
Marilyn and Paul Mahlberg
Eric and Dee Paulsen
Raymond and Lee Vlaming
Anonymous
Rob and Cathy Vuksanovic
David and Judy Ward
Anna Marie Yates
$1 – 49
Helen Jane Anschutz
Heidi Bader
John and Carol Bartoszek
Jeanne Barnard
Patrick Blizel
Rose Coisman
Eileen Cregan
Catherine Eckers
Travis Grooters
Nicole Herbst
Thomas and Darlen Kolp
Tammy Kroll
Thomas and Suzanne Kuffel
Sharon Leslie
Matt Propsom
Ann Quale
John Rosenthal
Rod and Marian Schlise
Jeanne Schopf
Edward Schriner-Schmitt
Scott Steebs
Jim Tellstrom
Suzanne Wagner
Joleen Wilson
Clifford Wind
Carmen Youra
2016 Business Members
$500 Level
C & S Manufacturing
Meissner Landscape Inc.
Midwest Archaeological Consultants
Ross Estate Planning
Thrivent Financial – Door County Team Thrivent Financial – Jacqueline Szczepanski
$250 Level
Bayside Home Medical
Door County Trolley
Jilot Insurance Agency, Inc.
Nicolet National Bank
Pinkert Law Firm LLP
Viking Electric Supply
Wulf Brothers / HiTec Fabrications
$100 Level
Birmingham Builders, Inc.
Dorsal
Gordon's West Side Electric
Hannemann-Gosser Insurance & Financial Services
Jeanquart Associates, Inc.
LfpDesign! LLC
Source Building Services, LLC
Young Automotive, Inc.
Special Thanks!
Gerry Banks
Door County Community Foundation
Door County Daily News.com
Door County Advocate
Door County Historical Society
Door County Libraries
Friends of Crossroads
Ronn and Mary Gilbert
LfpDesign! LLC
Midwest Archaeological Consultants
Peninsula Pulse
Raibrook Foundation
Sunshine House
Sturgeon Bay Utilities
Sunrise Ambassadors
Volunteer Center of Door County
Expand article
---
Teaching Teachers – Changing Lives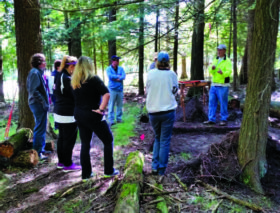 Through our education programs at Crossroads, we try to make memories, and sometime, we hope, actually change lives. We offer programs for school groups, youth groups, adult groups, and host lectures focused on science, history and the environment in collaboration with a variety of local organizations.
Less known, but truly important, are our teacher education efforts. We believe that if we can teach teachers, we can, by extension, reach all of their students for the rest of their teaching careers. In the past year, we have offered training to teachers
from all five Door County districts and twelve other districts as well.
Crossroads in collaboration with the University of Wisconsin-Green Bay has offered graduate level classes for teachers for the past decade. Like our other programs, these classes are experience-based, so, for example, as a part of our "Teaching Archaeology" class, teachers joined our professional archaeologists at The Cove and Ida Bay preserves to take part in the excavations.
With grant support from the Wisconsin Space Grant Consortium, we have offered classes in teaching astronomy, and as part of these classes, participating teachers experience the activities by working with students from the Boys and Girls Club.
But classes are not our only teacher education efforts. For example, The Door County Climate Change Coalition has offered summer teacher workshops call "Teaching Climate Science" at Crossroads. And area districts are now using our facilities for department retreats.
This year, Wisconsin Public Television produced the marvelous Wisconsin Hometown Stories -Door County program. As part of their education initiative, curriculum specialists from WPT gathered teachers and historians at Crossroads to write materials to accompany this program.
Just this month, volunteers again gathered at Crossroads to assemble 800 "Door County Exploration Kits" to be distributed to every teacher in Door County, historical societies, and museums. The kits include a USB flash drive with the full documentary along with classroom-ready lesson plans. The kits also includes beautiful biography cards, timelines, and maps. Crossroads has a number of these kits which we will happily lend to interested parties.
Much of our teacher education is organized by teachers themselves. Two or three times a year, we host a Science Forum, during which area science teachers share a meal and attend a lecture. The Door County Reading Council often meets at Crossroads, and CESA 7 uses our learning center to present workshops for teachers.
When you toss a pebble in a pond, you never know how far the ripples will spread. We at Cross-roads feel the same way about teaching teachers. We never know just how far the ideas we present will spread.
Expand article
---
Ski for Free Just Got Better!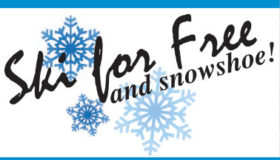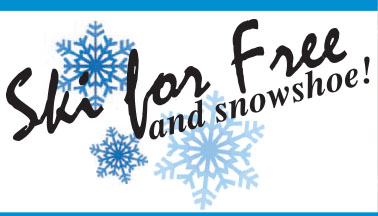 As soon as there is enough snow to groom the trails, our winter recreational equipment loan program will get underway at our Ski Distribution Center (a.k.a. the Maintenance Building). Ski for Free is sponsored by Friends of Crossroads and Door County Silent Sports. Ski equipment and snowshoes will be available, free of charge, on Thursdays, Saturdays, and Sundays from 1:00-3:30 to residents and visitors of Door County.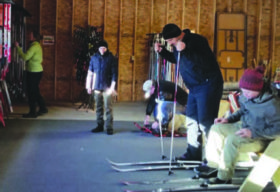 Using the proceeds of the Crossroads Trail Run, the Friends of Crossroads were able to purchase additional sets of skis, boots and poles in a range of sizes. A grant from the Door County Medical Center enabled us to modify the trails at our Big Creek Preserve to better accommodate our winter visitors.
This summer and fall, Crossroads Land and Facilities Manager Rich Propsom (with help from Friends of Crossroads) created two different trail systems …one for those that ski; the other – Multi-Use – is for those that snowshoe, ride fat bikes, walk pets, or hike. While there are a few places – bridges and intersections – where the systems overlap, most of the trails are completely separate.
Ski trails at the Big Creek Preserve will be groomed whenever snow is adequate and where possible, the Multi-Use trails will be packed.
Trails at our three preserves are free and open to the public 24-7. Try a moonlight hike or ski after snow has blanketed our forests and meadows. Winter can be magical if you spend time in nature.
---
2017 Crossroads at Big Creek Educational Theme: "Location, Location, Location"
2017 Goals:
Finish the parking lot
Upgrade exterior lighting and add security camera at the Collins Learning Center
Complete the Accessible Bird Butterfly Garden at the Collins Learning Center
Reorganize the greenhouse and increase storage for cleaning supplies
Add additional parking at the Ida Bay Preserve
Continue work at the Maki Arboretum
Continue archaeological investigations at Ida Bay and The Cove Preserves
Rehab the Heritage Garden gate and fence
---